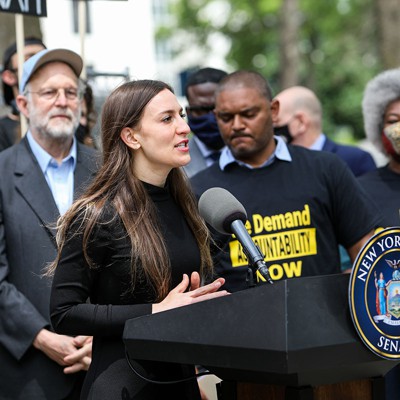 Alessandra Biaggi has given up her seat in the Senate. She has no regrets.
State Senator Alessandra Biaggi has never been afraid of a political challenge. In 2018, then-candidate Biaggi defeated Independent Democratic Conference leader Jeff Klein in a political upheaval that helped reshape the Democratic Party in the upper house. While in the state senate, Biaggi helped raise awareness about sexual harassment and revamp the state senate ethics committee. Last year, after Rep. Sean Patrick Maloney forced freshman Rep. Mondaire Jones out of his district, Biaggi announced she would run him first. Although the state senator ultimately lost the primary and her upper house seat, Biaggi has no regrets. In an interview with City & State, Biaggi discussed his tenure in the state Senate and considered his political future. This interview has been edited for length and clarity.
What do you consider to be your greatest accomplishment during your time in the State Senate?
My greatest accomplishment is and continues to be the work we have done around sexual harassment, sexual assault and sexual violence. The fact that we were able to really push various colleagues and our governments to hold the first hearing in 27 years in Albany on sexual harassment in the workplace – and not just to hold a hearing, but then to pass laws so that New York has some of the strictest laws in the country. This is exactly why this is an example of why I was elected and why so many new people were elected in 2018 and 2019.
I just feel a general feeling of gratitude.
– State Senator Alessandra Biaggi
I just feel a general feeling of gratitude.
There's something else that doesn't get as much attention that I'm really proud of. I asked for the Ethics Committee because I was very keen on bringing ethics reforms and the reform of our government to life. The ethics committee was a committee that had only met twice in the 10 years before I became its chair. It was also a committee whose rules we had to change on day one to get us all sworn in because it was a committee that couldn't pass bills or hold its own hearings. So changing the rules of the committee so that it comes to life and is real so that we can actually have hearings and do things that have allowed us to think about how to reform our government is something that I will always be very proud of. . I hope this is something that will continue because this is a very important part of our government working for the people.
As you near the end of your term in the State Senate, is there anything you feel is unresolved that you wish you had accomplished?
I think even if I was in the Legislative Assembly for 50 or 70 years, I would still feel like I had more work to do because there are always ways to improve policies, to strengthen laws or introduce laws that can accomplish something that makes our state better. But something I can't wait to see my colleagues cross the finish line is the Fashion Act – which is a bill to regulate the fashion industry and give it the guidelines that would reduce emissions of greenhouse gases from some of the largest distributors in the world, and also address labor issues that surround the industry. It is one and the other is to close the loophole to voluntary participation. Right now in New York, if you're drunk while you're being raped, you won't be able to seek justice. I have a lot of faith that these are things that will be done.
You gave up your seat in the State Senate to run for Congress in the Hudson Valley. Knowing what you know now, do you have any regrets about running for Congress?
No, none actually. One thing that I'm very aware of (which I think other people may be aware of too) is that when you know you're done with a place or a role, and it's time for you to leave, you leave. I felt very clear that I felt complete with my time in the State Senate. If I hadn't felt that, I think I would feel tremendous grief or regret, but I don't feel it at all because I felt like I was ready to move on and move on. to something else. It allowed me to take the risk of running, knowing full well that I could not return to the State Senate. I just feel a general feeling of gratitude because I am so grateful to have spent time in the Senate. I'm very attached to the fact that the growth I've had as an individual and as a human being is something I will cherish forever. It is very specific to this type of work. I don't think I would have grown the way I grew up if I hadn't done this work or participated in this process.
What will you miss most about being in the State Senate and working in Albany?
What I will miss the most are the people. It's very rare – very, very rare – to find people in politics who you can really say are my friends. I was lucky and blessed to have found more than one of these people. These relationships and these friendships are so important because they are for me a source of strength, brotherhood and a huge source of inspiration. When I think of these people as well as the community that I was able to serve, I think that is the hardest part that I will miss the most. I love being able to use my platform and my voice to raise awareness on issues and draft bills. Not just talk about the problem, but do something about it. That's not to say you can't do this outdoors, but I think this particular job is very unique. It's also why I can confidently say that while I may not be returning to the State Senate, I certainly don't feel like my time in politics is over.
So, do you intend to stand for election again?
The answer is probably yes. Although I can't see when or for what. But I think, particularly right now, the thing I'm most grateful for is being able to pause in a moment that I really think will also give me depth in my leadership. That's why I'm going to Harvard Divinity School next year because I'm very self-aware and we all have blind spots. I'm very aware that when you do this work every day, and at the rate at which you do it, and the amount of work required and the demand makes it really hard to slow down, take a break, have an intersection and become a different type of leader than we have seen. In my quest to go to theological school, that's one of the things I really hope to get out of it because I've often felt like I'm on a really fast treadmill that makes it hard to slow-down. I so crave that depth to become the leader I know I can be.
It's very rare – very, very rare – to find people in politics who you can really say are my friends.
– State Senator Alessandra Biaggi
It's very rare – very, very rare – to find people in politics who you can really say are my friends.
You publicly criticized state Democratic Party Chairman Jay Jacobs and vowed to "lead the charge" in replacing him. What will your role be in the effort to remove it, and why was it important for you to voice your criticism of Jacobs?
I am so proud to be a Democrat and we as New York State Democrats deserve so much better than what the party is doing. When you don't have infrastructure, vision, or strategy, you're not just failing the people who really matter to the Democratic Party, you're not reaching your potential. This ultimately means you are hurting people who really need strong leadership. New York is one of the bluest states in the country, and we know the majority of the House runs through New York. The carelessness with which the races were taken care of, not only at the federal level but also at the state level, and the lack of support and, frankly, ground game that the state party had is a complete disqualification of be a leader. It's not personal. I want Democrats to be strong in New York because if we don't pull ourselves together, we can guarantee we will lose in 2024 and every year after that. It's not just about removing and replacing it. It's also about selecting someone who has that vision, the ability to strategize, and understands the importance of the ground game with a combination of the right funding. In the offseason, it's our job to build that power by talking to voters. There is no shortcut to winning an election.
What advice would you give to new lawmakers heading into their first session next year, based on all the learning you've had during your time in the state Senate?
The biggest piece of advice I would give is this: once the campaign is over, it's time to roll up your sleeves and get to work. If there is someone who has just been elected and whom you see in need, help them. It doesn't take away from your power to mentor someone else or help someone else along the way, because these are people I will always remember and want to help with as well. 'coming. Part of what makes a strong elected official, a strong office, a strong district, a strong legislature is when you actually do it, instead of worrying about whether they have credit for what you're trying to TO DO. . The second thing is: we are here to use our power. So don't save it for a rainy day, but use it every day. Don't let anyone discourage you from trying to use this power, because that's exactly what Albany will try to do. So resist that. Resist this resistance and use your power.
What do you think will be your legacy in the State Senate?
If I were to step out of myself and look within, growth is something I'm very proud of and not ashamed of. So many leaders could benefit from just talking about how they grew up and the things they learned. It doesn't make you a bad leader to say "I didn't know that" or "I didn't realize that." In fact, it makes you human. If there's one thing we need in politics and government, we need people who are human, who are real people, who show that sometimes people make mistakes and it's okay. It's about how you respond to it. This is so important because unfortunately most of the time leaders are so afraid to talk about mistakes. I think it's such a disservice to be able to lead effectively and for a long time. I hope this is part of my legacy. The second part is, I hope people understand that when you speak out against big systems and powerful interests, even if you win some fights and lose others, ultimately that's the point of this work. Again: use your power. It's not about whether you hold the seat. It's about whether your contribution to the seat and the conversation is actually progressing. Often people are so frightened and driven by fear that they don't use their power because they are afraid of losing their place. The moment when you are no longer afraid of losing your seat because you are there to do the right thing and represent the people, then that is the moment when you have enormous freedom that no one can take away from you. It's the biggest part of my heritage. When you have fearlessness, you become unstoppable.