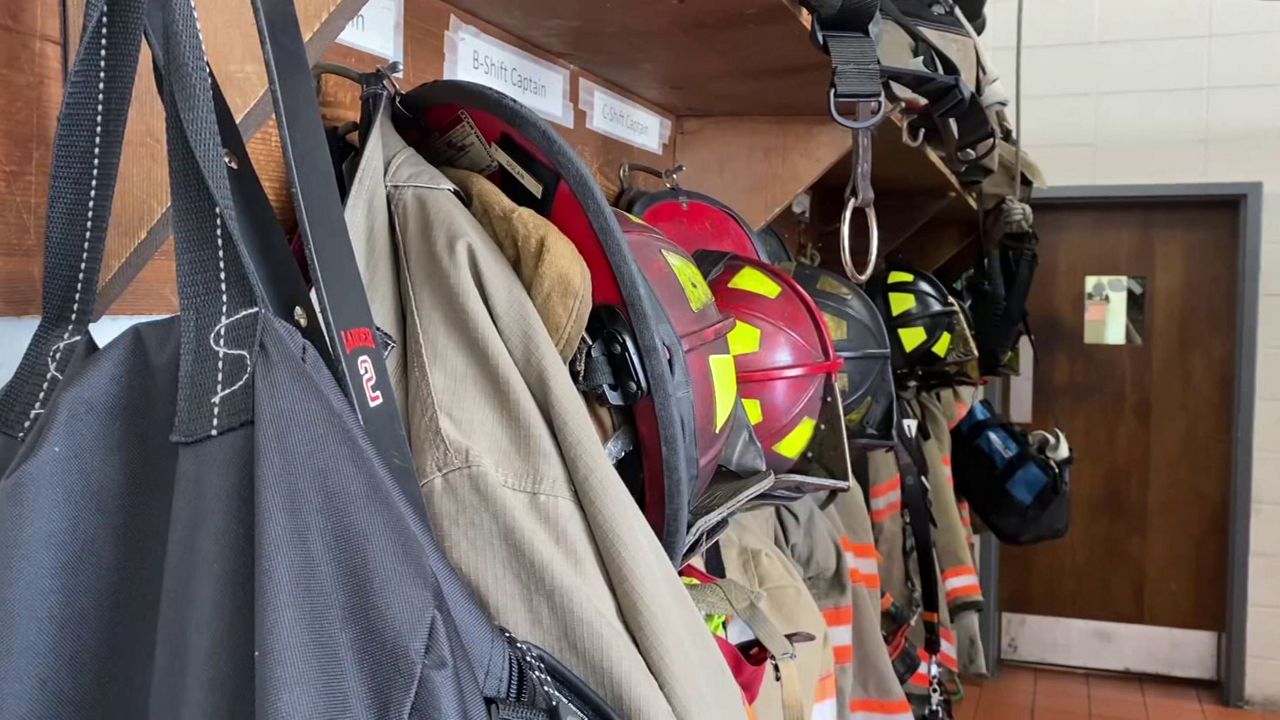 An inside look at Durham's firefighters in the heat
DURHAM, NC — The heat has been hanging over us all week. For some, working in extreme conditions is part of their job description.
Firefighters are preparing in Durham for emergencies even if the temperature exceeds 100.
Captain Brad Pope of Fire Station #7 loves his job.
"Being able to go somewhere and help somebody pretty quickly is kind of at the top of what we do," Pope said.
The 14-year-old veteran said he considers being a firefighter a calling. A sense of urgency is needed at all times.
"We're handling more EMS calls now, I'd say anything," Pope said.
Pope said he's been in the middle of all sorts of emergencies.
"It's always the thrill of the unknown, helping people," he said.
To do this, he stays cool mentally, physically and emotionally. He must do this if he wants to ensure the safety of his team, himself and the person in distress.
On Friday, the captain said he drank at least seven 16-ounce bottles of water.
"Take care of ourselves and stay cool. These people in this room are my most important tool," Pope said.
In their work, the human body is an instrument to ensure public safety. He prefers to see it that way.
"Because we use it (our body). Without us, the job doesn't get done," the captain said.
Fire Station #7 has the only ladder truck north of Interstate 85.
The engine design diversifies the amount of help they can offer on a stage.
"(We) pay attention to calls we may receive so that we know what our responsibilities and roles will be once we receive a call," he said.
Limit exposure to Heat is essential for survival. Depending on the type of physical activity a layman does outdoors, he could lose his ability to self-regulate their core temperature.
"Heat exhaustion messes up your mind and messes up your body," he said.
With full gear in the sun while fighting a fire, suits can reach 150 degrees or more.
Extreme conditions come with the territory for this concert.
"You are always ready. You never know where it's going to be," said firefighter Johnathan Armada.
A study from the Journal of Industrial Health reports nearly 75% of firefighters in the United States are suffering from some kind of work-related heat illness.
Pope said your training prepares you to equip yourself for the elements … and there are some lessons you can only learn in the field.
"Probably my first fatal call. That's when you know you're not at the academy anymore, and it's real," he said.
Staying alive and saving lives is what they do. While they can't always achieve that goal, Pope said it's beautiful when they do.
"The good reaction you get from people after helping them – for me, that's the most important thing," Pope said.