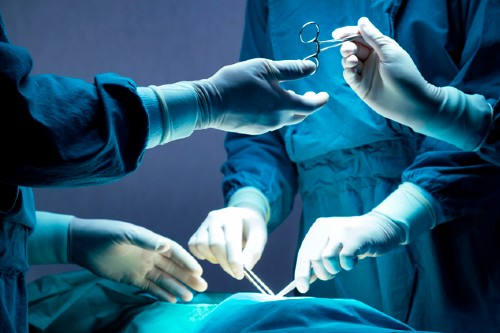 August: Introduce the study | News and Features
A coherent approach to NHS policies on surgical innovation is urgently needed, a landmark study by researchers at the University of Bristol has shown.
The INTRODUCE study, funded by the National Institute for Health and Care Research Bristol Biomedical Research Center (NIHR Bristol BRC) published in the British Journal of Surgery today (3 August), examined NHS hospital policies for the introduction new surgical and other invasive procedures and devices in England and Wales.
The researchers found that across the NHS, consistency in how surgical innovation is overseen is needed.
Surgeons innovate to improve patient care. Innovation can also benefit the NHS when more cost-effective treatments are identified. Innovation requires management and oversight. This carries risks because it is not possible to know all the potential results of a new procedure.
The National Institute for Health and Care Excellence (NICE) provides advice on new surgical procedures which are not yet generally considered standard clinical practice in the NHS and provides guidance on conditions of safe use. NICE may recommend that a procedure be introduced with: "standard arrangements" (as in normal clinical practice), "special (local) arrangements" (with enhanced patient consent and close monitoring of results), or in "(formal) research studies only," with research ethics board approval.
Monitoring is important because it ensures that patients are informed of the innovative nature of their procedure, which can influence their choice. It also means that safety data is collected and shared, which will determine whether the procedure is administered to larger groups of patients.
The INTRODUCE research team wanted to know how hospitals approach this. They studied hospital policies on the level of oversight required to perform new surgeries and invasive procedures. They investigated policies to determine when new procedures could be performed with standard or special provisions, overseen by the local hospital committee, and when they would instead need research ethics approval.
150 NHS trusts in England and 7 health boards in Wales were approached to share their policies. The vast majority have a written policy, although 20 do not and 9 did not respond.
Of the 113 policies reviewed, most indicated when new procedures should be referred to the local hospital committee, however, there were variations between the policies in terms of what fell within their remit. Few of them provided guidance on when research monitoring was needed. Policies often emphasized the need to comply with NICE guidelines, but only 15 policies included explicit text indicating whether NICE had classified the procedure as requiring research oversight only, then the procedure should only be performed with a research oversight. The policies were also contradictory. Some stated that procedures with uncertain results or insufficient evidence of safety and efficacy should be referred to the local committee, other policies stated that when this is the case, procedures should be undertaken only within the framework of research.
INTRODUCE study researchers are conducting a follow-up study to examine how NHS policies can be clarified and standardized. They are working with national stakeholders and NICE to strengthen the implementation of national guidelines in local hospitals.
Jane Blazeby, Professor of Surgery at the University of Bristol and leader of the INTRODUCE study, said: "These new findings will help us improve the way surgical innovation takes place in the NHS."
Dr Sian Cousins, researcher at the University of Bristol and lead author, added: "Our work adds to the findings of Baroness Cumberlege's recent report, which identified gaps in the innovation process. We now hope to work with stakeholders to improve surgical innovation in the NHS.
Ms Paula Goss, patient representative, said: "I was shocked by these findings. I expected all hospitals to follow national guidelines and protocols. I hope this work will improve patient safety and experience and that all hospitals will take action immediately, making it mandatory.
Paper:
Policy recommendations from healthcare organizations for the governance of surgical innovation: review of NHS policies, by S Cousins ​​et al. in the British Journal of Surgery.
More information
About the National Institute for Health and Care Research:
The mission of the National Institute for Health and Care Research (NIHR) is to improve the health and wealth of the nation through research. We do this by:
Fund high quality and timely research that benefits the NHS, public health and social services;
Invest in world-class expertise, facilities and a skilled workforce to translate discoveries into improved treatments and services;
In partnership with patients, service users, caregivers and communities, improving the relevance, quality and impact of our research;
Attract, train and support the best researchers to tackle complex health and social protection challenges;
Collaborate with other public funders, charities and industry to help shape a cohesive and globally competitive research system;
Fund applied global health research and training to meet the needs of the poorest people in low- and middle-income countries.
NIHR is funded by the Department of Health and Social Care. Its work in low- and middle-income countries is primarily funded by UK Aid from the UK government.
About the NIHR Bristol Biomedical Research Center:
Innovative biomedical research at the NIHR Bristol Biomedical Research Center (BRC) takes science from the lab or computer and develops it into new drugs, treatments or health advice. Its world-renowned scientists work on many aspects of health, from the role played by individual genes and proteins to the analysis of vast collections of data on hundreds of thousands of people. Bristol BRC is unique among NIHR's 20 BRCs across England, thanks to its expertise in groundbreaking population health research.