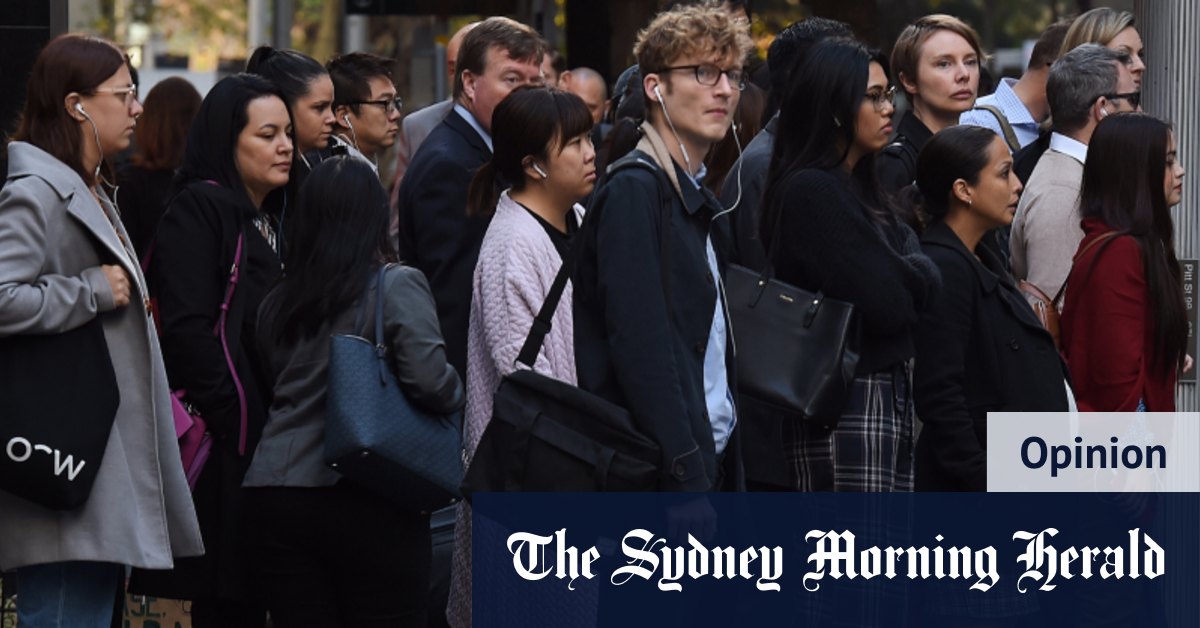 Australia on the brink of full employment
We have emerged from the pandemic with exorbitant debt and large budget deficits, while high commodity prices are expected to generate budget surpluses.
"We are talking about [the need for] much higher defense spending, but not on higher taxes to pay for it.
"We say we under-provide care and under-pay nurses, we under-provide education and we don't adequately reward our teachers."
The latest intergenerational report tells us that the ratio of over-65s to working-age people will halve over the next four decades, leading to higher costs and fewer workers to support them, he says.
But, "in the face of these immense fiscal challenges, total federal and state tax revenue as a percentage of gross domestic product is 5.7 percentage points lower than the average for developed countries."
To find? Yet another economics professor telling us that taxes should go up, not down.
The budget update released at the start of this year's election campaign forecast real wages falling by 3% in the two years to next June. Treasurer Jim Chalmers' update three months later increased the decline to 7%.
So, says Garnaut, "the facts have changed, and we should be prepared to change our minds." When we stop fooling ourselves, we will recognize the need for policies that we now think are impossible. This is Garnaut's second most inspiring point.
"Australians accepted change that had twice been impossible when we faced serious challenges, and responded with political reforms that prepared us for long periods of prosperity, national confidence and achievement."
Loading
The most recent was the era of reforms beginning in 1983. The first was the post-war reconstruction of the economy in the 1940s, which was followed by a quarter century of full employment and increase in income.
At the time, the Curtin and Chifley governments were determined that Australians would not return to the high unemployment and economic insecurity of the interwar period.
"The Full Employment White Paper of 1945 was based on the radical idea that governments should accept responsibility for stimulating expenditure on goods and services to the extent necessary to maintain full employment…
"This would achieve the highest possible standard of living for ordinary Australians."
The political success of the Liberal Menzies government – ​​he remained in office for 23 years – "was built on full employment, aided by the fact that Menzies isolated politics from the influence of political donations to a shocking extent today ".
Garnaut says he grew up in a Menzies world of full employment. (Me too, in this case.)
Garnaut's message is in two parts. First, we must stop deluding ourselves about the state of the economy and the budget. Second, we can make the seemingly impossible changes needed to achieve all the material and social benefits of economic success.
The authors of the white paper wondered how far the unemployment rate could fall before it caused high or accelerated inflation. They were surprised to find that it dropped below 2% and stayed there for two decades without issue.
The massive fiscal stimulus during the pandemic, combined with the temporary halt in immigration, brought the unemployment rate down to 3.4% – the closest we've been to full employment in nearly 50 years.
It's tempting to think that with all the problems with controlling inflation and decarbonizing the economy, that touch with our glorious past will soon fade away and we'll be back to the 5-6% unemployment we've come to regard as the best we can do.
But Garnaut's inspiring vision is that with the right, seemingly impossible policy changes, we can complete the return to a fully employed economy and stay there, reaping its many material and social benefits.
Loading
In the world he and I grew up in, "workers could quit jobs that didn't suit them and quickly find new ones – often moving from lower-productivity to higher-productivity companies. Employers are making great efforts to train and retrain workers.
"The income from work was secure and could finance a loan to buy a house. Businesses that could not afford to raise wages closed and released their workers into more productive jobs.
The steady increase in real wages has encouraged businesses to economize in their use of labor, which has increased productivity.
It's worth the effort, for me.
The Business Briefing newsletter features top stories, exclusive coverage and expert opinion. Sign up to get it every weekday morning.