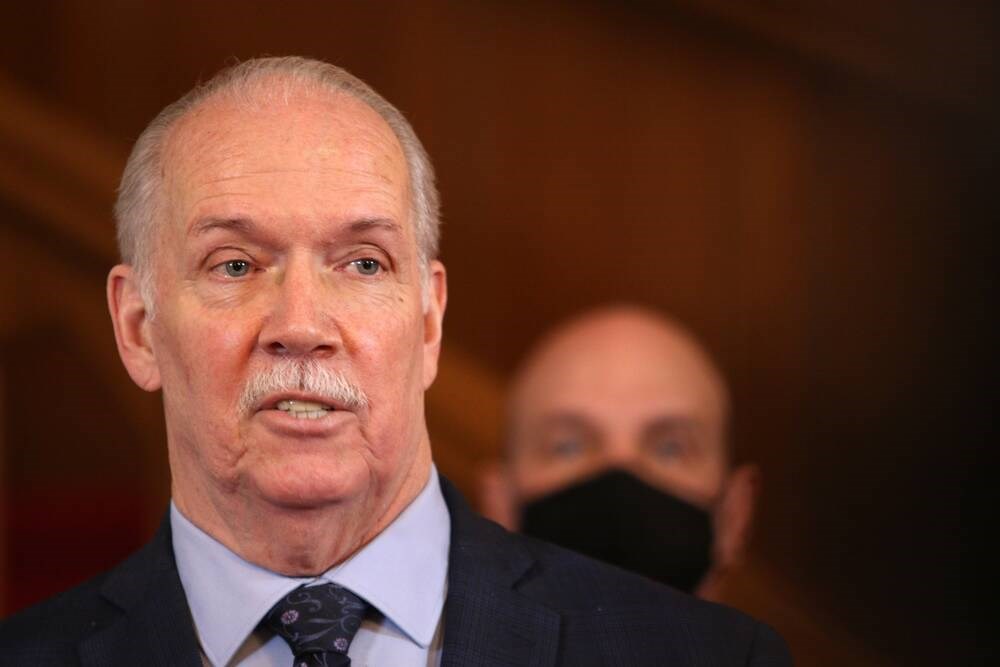 British Columbia Premier John Horgan denounces convoy anti-warrant protesters
"There will be no occupation in Victoria," said BC Premier John Horgan.
British Columbia Premier John Horgan has said the occupation of Victoria by a convoy of anti-vaccine and anti-mask protesters from elsewhere in Canada will not be tolerated.
"Shake your head – find a better way to take your energies and put them to positive outcomes," Horgan said during a press briefing at the BC Legislative Assembly on Friday. "God, find yourself a hobby."
James Bauder, one of the founders of the "freedom convoy" that occupied Ottawa for weeks, said in a video posted on social media that the convoy planned to visit the capital of British Columbia and the occupy for months. According to the group's website, the convoy is expected to arrive in the Vancouver area by March 21.
"We spend an awful lot of time with a small group of people who seem to have nothing better to do with their time than running around honking their horns," Horgan said. "I would like them to take the time to watch TV and see the evening news about the real tragedies and the real disruptions to freedom that are happening in Europe right now.
"My appeal to those who think there are benefits to coming together and driving in circles and making life miserable for people or camping out here in the legislature, you are just disrupting the lives of your fellow citizens. "
People may disagree with the government's course and send letters and protest, "but then you have to go home," Horgan said.
B.C.'s premier says people across the country have learned from Ottawa's three-week occupation what happens 'when you try to be polite and say please come back your house". The occupation began in late January and ended after the federal government invoked the Emergencies Act.
"I know that law enforcement in Victoria, reinforced if necessary, will encourage people to make their case and then disperse," Horgan said. "I don't want to discourage anyone from making their point. But I absolutely want to discourage them from disrupting the lives of their fellow citizens. Your freedom is no greater than anyone else's.
Based on information from Victoria Police, the Prime Minister said he believed 'there will be no occupation in Victoria'.
British Columbia has been targeted by the group as one of the last jurisdictions to still have vaccine and indoor mask requirements, and it's unclear whether the elimination of the mask mandate and the plans for the BC vaccination card showing proof of vaccination due to expire on April 8 will affect the convoy.
On Thursday, Provincial Health Officer Dr. Bonnie Henry announced that masks would no longer be required in most indoor public spaces from Friday, although they must still be worn in K-12 schools until 'after spring break, as well as in doctors' offices and other health services. care settings.
With 91% of people ages 12 and older in British Columbia fully vaccinated, these protesting masks and vaccines represent a fraction of the population and are getting far more attention than they deserve, Horgan said.
The Prime Minister said that given his immunocompromised status, he would continue to wear his face covering in public.
Horgan completed the last of 35 radiation therapy sessions in late January after surgery for throat cancer.
Earlier in the day, Horgan told CFAX host Al Ferraby that he had no patience for protesters in the convoy.
If people in lorries and other vehicles want to come to Victoria to protest health measures by honking, "then I feel really sad for you," he said.
"Turn on your TV and watch what's happening in Ukraine right now, go online and research the profound impacts of inequality in our societies around the world and then maybe you have something to get excited about. ."
The premier said he wanted to focus on how to help the people of Ukraine, lift people out of poverty in British Columbia and stabilize the economy.
"If people want to drive and honk, then fill your boots," Horgan said. "And at $2 a liter [for gas] it's not just bad judgment, it's stupidity.
BC Solicitor General Mike Farnworth said earlier this week that legal protest is part of a free and democratic society, but occupations are not.