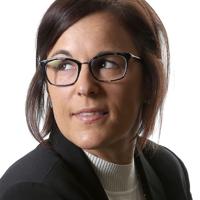 Chairman and CEO of United Way NSV Announces His Resignation | Nvdaily
After seven years as President and CEO of United Way of Northern Shenandoah Valley, Nadine M. Bullock-Pottinga will step down as of December 31.
"I've been here for seven years and the organization is in a great place," she said in a phone interview. "I felt like it was the right time for someone to take over. The timing is perfect. "
His resignation was announced in a press release on Monday. Dr. Cheryl Thompson-Stacy, former President of Lord Fairfax Community College, has been appointed Interim President / CEO of United Way NSV until a selection committee fills the position.
Bullock-Pottinga said she has accepted a new job with a national organization serving veterans and will start the new year. She said it was "a really good opportunity" that she couldn't pass up.
In the statement, she called being the head of United Way NSV "one of my professional strengths that I will always look upon with affection".
"It has been an honor to serve my community and to work with staff and volunteers who are truly passionate about making the North Shenandoah Valley a better place for everyone to live," said Bullock- Pottinga. "I am really proud of all that we have accomplished together.
She said in an interview that her favorite part of the job was knowing so many people in the community, which she said is "the warmest and most generous people."
United NSV serves Winchester and Clarke, Frederick, Page and Shenandoah counties.
Under Bullock-Pottinga's leadership, the Winchester-based nonprofit has experienced unprecedented growth, revitalized its fundraising efforts, embraced the ALICE project, and was a catalyst for change with Valley Assistance. Network, according to the press release. He has also been a leader in response, recovery and reconstruction during the COVID-19 pandemic.
The ALICE project was designed to help people with limited assets, limited incomes, and employees.
"The staff and board have really enjoyed working with Nadine over the past seven years," United Way NSV Chairman of the Board, Dr. Damon DeArment, said in the statement. "While we are sad to see her go, we are happy that she can pursue new professional and personal goals while serving our veterans in her new role. She has been an incredible visionary leader, working tirelessly for the good of our underserved and most vulnerable neighbors. It leaves the organization in a very solid position both organizationally and financially. We are a better organization today thanks to Nadine's leadership and we wish her success in her future endeavors.
Some of Bullock-Pottinga's accomplishments with United Way NSV include:
• Supported the creation of the Northern Shenandoah Valley Housing Coalition in 2018, a local partnership between United Way NSV and Blue Ridge Habitat for Humanity.
• Implementation of the Valley Assistance Network, a comprehensive resource and referral system that helps families move from crisis to stability. It has served over 4,000 families and 10,000 people in less than two years while earning over 10,000 community referrals
Advocate the adoption of Unite Us, a results-based coordinated care technology initiative, making the North Shenandoah Valley the third community in Virginia to adopt the system thanks to a grant from SAMHSA, George University Mason and the Valley Health System. It has now been adopted statewide.
• Create additional opportunities for donor engagement by creating the Society of Emerging Leaders and Women United leadership groups.
Bullock-Pottinga called Thompson-Stacy "the perfect person to lead this organization through this transition. She's not only the most capable person I know, but she's kind and caring, and I know she is. she will take care of everyone who works here and with this organization. I couldn't feel more confident to leave things in her hands. "
The search committee to find a new leader for United Way NSV will be led by Mark Merrill, former CEO of Valley Health System and former United Way NSV board member and campaign chair. A job description and details on how to apply for the position will be posted later this week on www.unitedwaynsv.org.