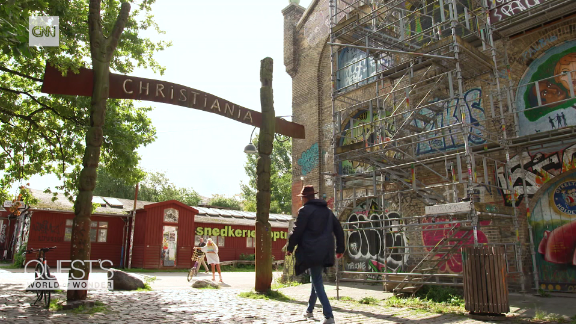 Copenhagen's turn of fairy tales
---
Once upon a time in Scandinavia, a country emerged where the Covid restrictions under which many other countries still live have been completely lifted.
Denmark's decision to become the first member of the European Union to completely relax the rules of Covid-19 is in large part thanks to how local traditions of samfundssind or 'social spirit' have helped stop the spread of the virus .
With Covid passes no longer required to enter restaurants and nightclubs, Copenhagen is open and ready for business, with friendly citizens ready to welcome visitors new and old to enjoy its low-key charm.
A fairy tale ending with a dark chapter? It would certainly be appropriate in the Danish capital where few things are as central to the culture as fairy tales. Especially those of Hans Christian Andersen.
Although the author of classics such as "The Little Mermaid" and "The Emperor's New Clothes" passed away almost 150 years ago, his spirit is alive and well in modern Denmark.
And anyone who meets artist Torben Iversen could be forgiven for thinking that Andersen is alive and well in person.
Iversen, who is regularly seen dressing and speaking like Andersen, along with a group of fairytale enthusiasts have taken it upon themselves to keep the author's stories alive for future generations.
"Someone has to play Andersen, travel the world to present the stories," says Iversen, dressed in 19th century attire. "I don't tell people 'I'm Andersen'. I play Andersen because Andersen said 'traveling is living'. I say playing is living. So that's what I do. . "
Iversen founded the Hans Christian Andersen Parade in 1988 and took on his show, featuring 20 characters from Andersen's fairy tales, all over the world. He is however back in Denmark, where he has chosen to continue his work, now making special guided tours around the Andersen Museum in Odense, west of Copenhagen.
Andersen's writing and stories aim, according to Iversen, to ensure that we maintain our sense of wonder and imagination beyond the early years of childhood.
"I will tell you that you will always make your own life a fairy tale. If you remember it, that will be the most important thing."
Tales, in their balance between light and dark, are part of the human mind.
"[People] get vitamins for their life, for their mind, for their thinking, for their heart, for their feelings, "Iversen says of Andersen's work. "This is art, this is culture, vitamins for your life. "
A date with a Viking
If tales of mermaids, naked emperors and princesses are deeply rooted in Danish culture, so too is the long and rich history of the Vikings. These marauders were dominant in much of northern Europe in the early Middle Ages, traveling as far as Russia, Greenland, and North America. Their plunder led to a reputation that endures to this day, one that has violence at its heart.
It's a reputation that flamboyant artist, designer and photographer Jim Lyngvild tries to change, trying to change perceptions and showcase Norse beliefs and pagan Viking rituals.
For Lyngvild, it's personal. He descends from Viking royalty and has the family tree to prove it. But his skills as a designer mean he's taken things to the next level, building his own Viking castle and even a temple to the Norse gods which is, he says, the first to be built on Scandinavian land since. a thousand years. It was completed in 2016.
"My goal here in life is not to promote, that's the wrong word, but to tell people about old Norse beliefs and the Vikings. And make them less stereotypical."
"The Vikings have been taken hostage by the stupidest people," adds Lyngvild. "The Nazis used the symbols … So I'm torn between being extremely proud of my heritage, but also being extremely aware that nothing bad will come of it."
Lyngvild's extravagant take on Viking history saw him become one of Denmark's most famous people. He wears the clothes, he assumed religious beliefs and created magic around this often overlooked part of Danish history. But he also invited Syrian refugees to a reconstructed Iron Age village in Odense to introduce them to Danish culture. This is testament to his singular approach to showing the best of Denmark.
"We have this very conservative, 'you have to do it in a very strict old fashioned way.' [approach]. But we also love the cracks in the web where wild horses can run, "he says.
Science defies history
As Lyngvild's proud take on Denmark's Viking history challenges stereotypes, new research suggests that much of what we know about these looters and empire builders may not be so concrete as we thought.
Take a step forward Eske Willerslev, a DNA scientist and director of the Center for Geogenetics at the University of Copenhagen. Eske, a former adventurer who once led expeditions across Siberia and Greenland, blasted a thousand years of Viking history with his cutting-edge research.
His work showed that the Vikings were not just Scandinavians. Analysis of 400 skeletons from burial sites across Scotland and Greenland actually revealed that many of those buried did not have a Scandinavian genetic history, with some being locals and others with even links with southern Europe and Asia.
"Of course there are Scandinavians, Danes, who are Vikings, a lot of them. But there are also Vikings who have no genetic ancestry from Scandinavia," Eske explains.
It seems Viking was more of a job description, a way of life rather than a birth oddity. These skeletons were buried in Viking rituals, with the same swords and shields you would expect to find in Scandinavia.
"Our whole identity as Scandinavians … is based on Viking myth. But you know, as a researcher, what is your goal? Your goal is to find out what really happened rather than 'what do we think – us that it happened or that we imagine that it happened "."
And Eske has another surprise.
"[They] were less blond and blue-eyed than Scandinavians today. "
It seems that our preconceptions about this cornerstone of Danish history have indeed been swept aside.
A rebellious side
Copenhagen has developed an international reputation for its simplicity, consensus mentality and reasonableness. But that doesn't mean he doesn't have a rebellious side. And nowhere is this more evident than Christiania.
The famous Free City of the Danish capital dates back to 1971, when a group of free-spirited settlers broke into the BÃ¥dmandsgade military barracks and set up what has become one of the most common collective life experiences. famous in the world.
During this time, Christiania became known for her free and easy-going approach to life, with critics pointing to issues with open drug use and the region's links to organized crime. Visitors are cautioned not to take photos around its infamous Pusher Street, with a list of rules visible to anyone entering this unique corner of Copenhagen.
Since 2011, however, the area has been owned by the Freetown Christiania Foundation, a group committed to protecting their way of life and the place they have called home for 50 years.
So what makes him so good looking after all these years?
Tanja Zebell is a longtime resident and remains committed to the cause of community living and doing things differently. Slipping through the quiet streets of Christiania on roller skates, she is an image of the rebellious spirit that still endures here. She is passionate about the town where she lives and especially by the art that adorns the walls of the neighborhood. The graffiti, she explains, is part of the charm of the place.
"You look at what's already painted over there and then you ask yourself, 'can I do better? "If the answer is no, then you won't repaint," she said firmly.
This polite rebellion is particularly Danish in its sensitivity. One side rebels, the other tolerates. One side grows, the other recognizes. This is what makes Copenhagen and Denmark in general such a warm and welcoming place.
In the less rebellious setting of a traditional Danish bakery, Danish globetrotting correspondent and author Ulla Terkelsen is in a thoughtful mood. Ulla has worked and traveled all over the world, but still has a deep affection for the place she lived for the first 20 years of her life. Like Tanja, she loves this city.
"I think it's a very beautiful country. I think it's also a very practical and sensible country," she says of traditional Weinerbrod.
"When you are here you are as if you left the world. The world is dangerous and different and you come out and enter a very pretty garden. Very well kept where everything is soft and pleasant. But outside the garden gate, something else is happening. "
Terkelsen says that as she walks the pretty cobblestone streets of her hometown, she develops an emotional reflection on connections to her family and her past, tapping into a larger feeling that Copenhagen is a place to return to.
This meaning is perhaps best summed up in the fairy tales that originate from these shores. The safety, enchantment and wonder of home, but with a twist in history, whether in rebellious Christiania or the new science revealing the truth about Vikings and Denmark's past. It is fair to say that if you visit Copenhagen you can live happily ever after.
The-CNN-Wire
™ & © 2021 Cable News Network, Inc., a WarnerMedia Company. All rights reserved.