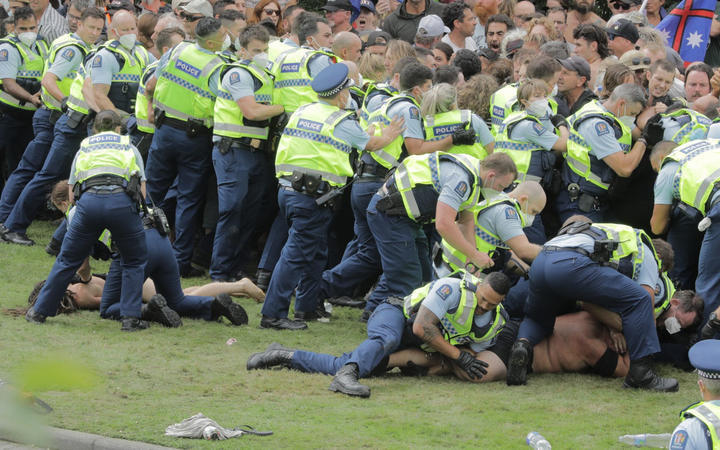 Demonstration in Parliament: police arrest 120 people in an attempt to control the occupation
Tensions rose today as the protest against Covid-19 protective measures dragged on into its third day, with police clearing away dozens of protesters who refused to leave Parliament grounds.
Police made more arrests this afternoon as they continued to hold the line.
Police said it was disappointing that despite the ground being officially closed to the public earlier in the day, a number of protesters are still refusing repeated requests to leave the compound.
"We continue to recognize people's right to protest, but those who behave illegally will be arrested."
Some protesters responded with name-calling, haka and throwing objects at officers.
At a press conference this afternoon, Wellington District Commander Superintendent Corrie Parnell said the health and safety of police personnel and the public was paramount.
Parnell said two police officers who were assaulted in today's standoff with anti-warrant protesters are now recovering.
Police had twice deployed OC spray after officers were fired into the crowd. He said they were not seriously injured and such behavior was unacceptable.
Parnell said earlier in the day police saw weapons such as signs and batons, as well as brass knuckles that signaled the sentiment of some of the occupants.
He said the presence of children was a significant risk factor and some protesters had placed children in front of adults.
He said the police could not control this, but could control how they treated the children.
"There has never been an occupation of this magnitude, it is unprecedented and it takes a measured approach," he said.
Asked how long the occupation will last, Parnell said 'my intention is that he won't be here for a week'.
Politicians react as protest continues
In Parliament, Covid-19 Response Minister Chris Hipkins stressed that the pandemic is not over.
Hipkins made the comments during the debate on the Prime Minister's statement in the House this afternoon.
He referred to the number of protesters outside Parliament and the number of Covid-19 deaths abroad.
"More people are dying from Covid-19 in Australia than were on the Parliament forecourt. Every week more people are dying from Covid-19 than there have been on the Parliament forecourt each week ."
Hipkins also thanked the police for protecting those working in the parliamentary precinct.
Speaking after visiting a Covid-19 vaccination center in Albany, Auckland, Prime Minister Jacinda Ardern told the group of anti-vaccine protesters to 'move on'.
Ardern said it was ultimately an operational matter for the police.
"Obviously every New Zealander has the right to protest, but there are also rules about what can happen on the forecourt of Parliament and of course we would expect people to behave in ways that don't don't interfere with the ability of others to carry on with their lives, too."
She said the majority of New Zealanders shared a similar sentiment, to protect each other and do all they could so that we can continue to live our lives as we did before the pandemic.
"It's not unusual to have protest activity in Parliament, it's part of our democracy, but we need to make sure we maintain that balance with people who are able to live their lives – especially people who live in poverty. Wellington area or who work in the Wellington area, so of course that's what the police are trying to do.
"I'm not going to question those who have the expertise to handle situations like this."
She said she had seen a number of protests during her time in parliament and it was certainly not the biggest.
The National Party confirmed that it did not support the convoy demonstration, although one of its MPs posted on Facebook that she wanted to thank the protesters.
Maureen Pugh edited the post before deleting it entirely, saying she didn't know the protesters were anti-vaccination.
Covid-19 party spokesman Chris Bishop said he had not seen the post before it was deleted.
Bishop said Pugh apologized for her actions and there were no anti-vaxxers in the national caucus.
Wellington CBD retail sales down 70% due to disruption
On the streets surrounding Parliament, Wellington retailers say the disruption caused by the large demonstration in Parliament is weighing more on business.
They said staff were verbally abused in the city.
Retail NZ said the protest had caused sales in the CBD to drop by at least 70% and businesses were already grappling with red light restrictions.
Chief executive Greg Harford said with much of the public avoiding the area, many protesters want to be served – but can't because they don't have passes for the vaccines or masks.
He said retailers are concerned that angry people will scatter from Parliament and across the city, and he wants the City Council to support retailers if that happens.
As the protest rumbles, New Zealand today recorded a new record high of 306 new community cases of Covid-19 – with 216 cases in Auckland alone.
Police on site as ticketing of protesters' vehicles begins
After parking tickets were withheld yesterday for security reasons, Wellington Police have now started assisting parking wardens to clear blocked roads around Parliament.
Anti-warrant protesters have been told to move illegally parked vehicles and tickets have now been issued.
Wellington City Council said that while they would like to start towing vehicles, a lot of resources would be needed.
Council spokesman Richard McLean said the council was in constant discussion with police about the vehicles.
Owners will be fined $40 if their vehicles are parked on the sidewalk and $60 if they are on yellow lines or parked on the road.
Each parking officer is accompanied by at least two police officers.
Experts warn the protest could become a superspreader event
Michael Baker, professor of public health at the University of Otago, said morning report the event had the potential to increase transmission of the virus, with protesters traveling from across the country and likely mingling with others outside of their family group.
"It really is the definition of a super-spreading event and we know that's how this virus spreads around the world. We've seen it in New Zealand before with the Soundsplash Festival in Hamilton. We have seen it a lot internationally at large gatherings," Prof Baker said.
"Even though it's mostly outdoors, there will be a lot of indoor gatherings associated with, you know, shared transport and accommodation, meals, shouting and singing, which we know generates these aerosols" , did he declare.
"But the additional big problem here, of course, is that these groups, almost by definition, have low vaccination coverage and low mask use. And they're probably less likely to come forward for testing and self- isolate if they're sick. So all of them are really increasing the risk for that event."
He said after two days the point had certainly been made and any decision on whether to break up the protest would be complex, but currently poses a risk.