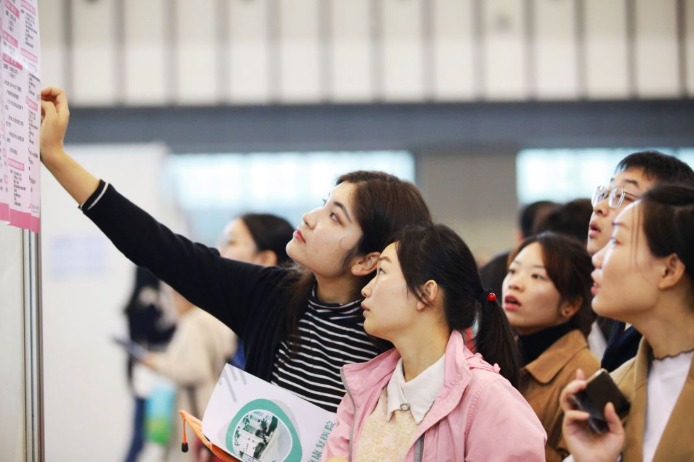 Flexible employment can ease work pressure
The concept of "flexible employment" has become a hot topic of discussion, especially after Premier Li Keqiang reiterated the government's policy of further supporting flexible employment and new forms of employment over the " two sessions" which have just ended. The Central Economic Labor Conference held in December also declared that flexible employment would be promoted.
All this shows that the authorities attach greater importance to flexible employment.
Still, the heated discussion online about flexible employment reflects the pressure on the Chinese labor market. However, if well managed, flexible employment could play a positive role in the economic and social development of the country.
But what prompted authorities to pay more attention and citizens to discuss the new concept of flexible employment?
From a macro perspective, flexible employment has gained prominence mainly since the outbreak of the COVID-19 pandemic in early 2020. Remote work and lifestyle, especially working from home, are become an integral part of economic and social activities. after social distancing norms, one of the main prevention and control measures to contain the pandemic, were introduced in the country. It is in this context that the demand for flexible jobs, including those in delivery services and influencers, has exploded.
The Chinese economy is facing further downward pressure and the job market has room for further improvement. In such a scenario, flexible employment could act as a cushion when labor supply and demand become out of sync, and fewer regular jobs are created or some people become unemployed. The fallow period between successive jobs is called frictional unemployment in economics. To fill the void of frictional unemployment, flexible employment is becoming the choice of many job seekers.
In addition, the rise of mobile internet and demand from specific sectors has also created new opportunities for flexible employment. Millions of flex jobs, including delivery services, ride-sharing services, short-video making and live streaming, have been created through the rapid development of mobile internet.
In addition, demand for housekeeping and cleaning services has skyrocketed with rising incomes and an aging population. Online platforms have made it possible to match supply and demand, and thus have prompted the public to pay greater attention to flexible employment.
From a micro perspective, job seekers' increasingly open notion of employment has also made flexible employment popular. Many flex jobs offer higher pay than stable jobs, are more flexible in terms of working hours, and have less complicated working relationships.
Flexible employment can not only ease the pressure on the labor market, but also help solve some of China's economic and social problems to some extent. Flexible employment can also help to stabilize employment, preserve people's income and secure people's basic livelihoods as proposed by the government.
Therefore, flexible employment should not be flouted.
However, the management of flexible job platforms, which occupy a relatively strong position compared to flexible jobs, should be strengthened. The government should introduce necessary regulations and punish platforms demanding or extracting an unfairly high percentage of commission or deducting a high proportion of wages as workers' commission.
In addition, more user-friendly measures should be introduced to better protect social security and regulate health insurance so that flexible employees feel more secure, and specific institutions should be created to help flexible employees and better protect their rights. . And regular surveys should be conducted to provide free training to flexible employees so they can navigate the job market.
In addition, the government should provide more support to small and medium-sized enterprises, which are important providers of flexible jobs, but which are relatively weak when it comes to resisting risks. It is also necessary to provide special assistance to SMEs on different fronts such as the granting of loans.
The author is a research assistant at the Institute of Global Economics and Politics, Chinese Academy of Social Sciences.
Opinions do not necessarily represent those of China Daily.
If you have specific expertise or want to share your opinion on our stories, send us your writings to [email protected] and [email protected]