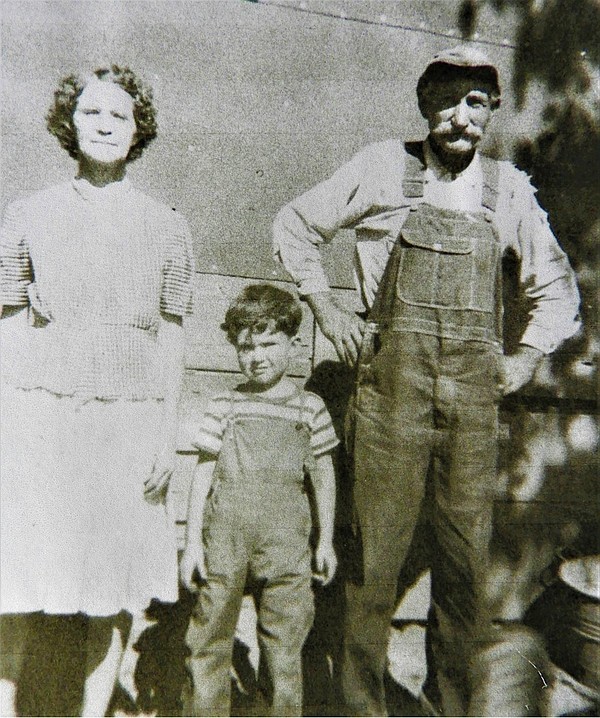 Every night the last thing we watch on TV is one of our favorites, The Walton's. After watching the news and westerns, we want a good family show before going to bed. Although neither David and I grew up during the Depression years, as this story revolves around, that seems to be the kind of life we ​​used to know. Lots of family love and sharing and great grandparents.
Almost on every show, David notices that Grandma Walton reminds him so much of his Grandma Grace and misses her. I always wondered why he said that. Then finally, I asked him why.
At the time, Grandma Walton would sharply correct children. I told her "the way I remember your grandmother Grace is that she was a nice little lady".
He said, "She was! But she still wanted everything to be done in the straight and narrow way." He said he never had any problems with her, because he knew better and also always wanted to please his grandparents. I guess that's why she said to me, "David has always been such a good little boy."
He said his grandmother was about the height of Grandma Walton and they both had a touch of red hair. Also, they both dished out more love than correction, but corrected when necessary. You always knew you could come to her if you had any problems and that she would help you in any way possible.
David lived with his grandmother Grace for a while and talks about her so much. He always talks about how she took care of him with so much love and kindness.
They didn't have much as the world can see, but for a little boy he had everything he needed. His grandmother always made him feel special and showed him love in so many ways.
To this day, he still enjoys fried potatoes and canned tomatoes for almost every meal. This is what his grandmother always cooked for him and he said it was so good.
The potatoes were fried in a cast iron skillet on her wood stove and the tomatoes were the ones she had canned. And, because he loved grape jelly, she always made sure he had bread, butter and grape jelly.
He told me so many stories about him over the years. I've told about it in other stories in the past.
There was the time of the great flood of 1951, in the Bluffton area, where his house was. They woke up with water all over the floor. As the water rose before they could get it all out, he remembers seeing the jars of tinned vegetables she had canned floating by. Someone had a boat and came to help them catch the floating jars.
The irony of this was the fact that they previously owned 40 acres, along what was then known as Carpenters Island. But every time the water rose, they faced flooding. So the first chance they had, to avoid the flooding, they moved to Bluffton, and then it happened.
The store of them also contained water at depth. They used to have a marker there showing how deep it was. I believe about 4 feet. The store and the house are gone now, but they were there even when our boys were young.
When a house was available for sale, behind the Bluffton Store, they had bought it. David remembers the cute shed near the house he used to help fill with wood as a child. Times were different then. Children like David worked. Never reluctantly, back then it was just what we did, no regrets, it was family life.
He describes how they had wooden rain barrels at the corners of the house, where gutters on the roof collected water to fill them for domestic use. It is said that washing your hair with rainwater makes it soft and shiny. Then they had an old well cistern that also had a gutter on the roof to bring in the rainwater. He describes how he descended into the well as a child and cleaned it for his grandparents before they used it.
From what David told me, Grandma Grace was strong-minded. And although she was a short woman, she never let hardship get her down and stayed positive through the hardships.
His grandparents lived there in this small house until his grandfather died. Hearing David talk about him makes me sad that I never knew him. He often talks to me saying something "As my grandfather would say", with a German accent.
David still has tears when he talks about the day he died. He was still in bed when Grandma Grace came to wake him up. She asked him to get on his bike and "go tell your father that grandfather just died".
David's father, Orville, worked on the Katy Railroad (MKT) which was not far from his grandmother's. Luckily they were still at the depot and hadn't left all day. And also they still owned those 40 acres that I spoke of, until he died. It sold very little at the time. It would have been worth a fortune now.
I never knew Grandma Grace so well personally, but I knew her daughter, David's aunt, Margie Benskin, and Grandma Grace's son, Uncle Elmer Kleindienst. I liked them both.
When our boys were young, we went to visit Uncle Bob and Aunt Margie and they always treated us special. Margie always prepared a great big dinner. Uncle Bob was a joker and always teased me and bothered me.
Once, when I had gained a little weight, more than the 100 pounds I had when David and I got married, he said, "Dorothy, you look really healthy. He meant to grow. Of course, I got mad at him and he laughed.
David's uncle Elmer has always been one of my favorites on the Kleindienst side. We also visited Uncle Elmer and Aunt Mary Lou. You would have to hear him speak to understand. He was a slow drawl and always caring and kind.
I think Grandma Grace raised them well. David always said he might not have been the man he is now without his grandmother.
I remember one day Grandma Grace, Uncle Elmer and Aunt Mary Lou came to our house. They lived in Mexico.
They said they asked grandma what she would like for her birthday. Was there anything she wanted or anywhere she wanted to go. She said, "Yes, I want to go see David!"
Uncle Elmer asked me to sing a song while David played guitar. I sang a Kitty Wells song, Heartbreak USA. When I was done, Uncle Elmer said in his slow, drawling voice, "Well, I don't see how that could be done better by anyone.
They are all gone now, but they left us with so many happy memories. I am grateful that my husband David had such a great grandmother who helped him feel comfortable and loved in her home at a time when he needed it.
He tells how he liked to crawl between two feather mattresses where it was so warm and soft. We talked about how he never really remembered whether his house was too hot or too cold. Hearing all of her stories makes me admire the lady I never knew so well except through David's memories.
There were many Kleindiensts in the area at that time and also Zumstegs, as well as several other surnames that I have heard of, who were well known and respected.
Good character traits and work ethic will be passed down from generation to generation. And never think that how you treat a child doesn't matter. They will remember!