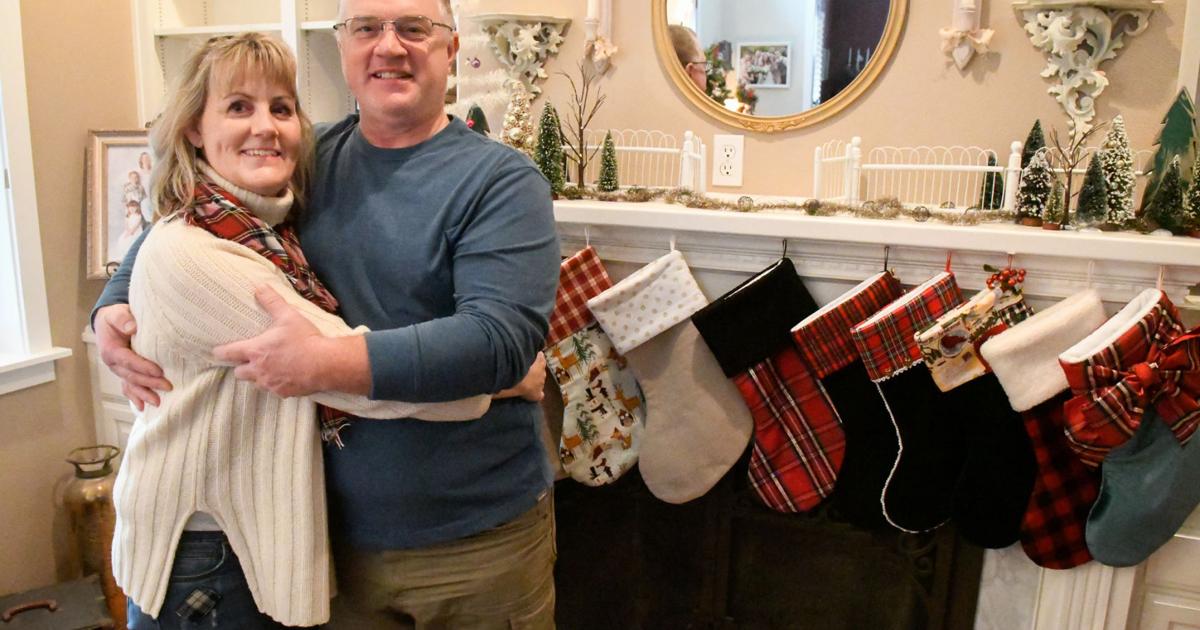 How to save a life: Local firefighter with COVID-19 receives brand new treatment | Local
Bruce Sams is no stranger to fighting for his life and fighting for the lives of others. As a McMinnville firefighter, it's right there in his job description.
But the North Albany resident didn't expect to fight for his own life against an unpleasant case of COVID-19[female[feminine. Fortunately, for Sams, 55, landing in the intensive care unit at Good Samaritan Regional Medical Center meant being admitted to one of the few hospitals in the country to use a whole new treatment.
New treatment
The treatment is a Seraph 100 filter, which works in conjunction with a typical dialysis machine to filter pathogens from a patient's blood. It's basically a sealed plastic tube filled with tiny little marbles that look like sand. The beads are coated with heparan sulfate, a type of carbohydrate common in human and animal cells.
A person's blood is removed from the body, passes through the filter, and then returned to the bloodstream. The virus (and other contaminants) clings to the beads because it recognizes the coating, effectively filtering SARS-CoV-2 from the blood.
Remarkably, the doctors say that the filter does not eliminate the drugs.
The technology was designed by the US military to treat sepsis and other blood infections, but once doctors found it could successfully clear the new coronavirus as well, its use spread to COVID patients. -19. Studies in the United States and Europe show that it can reduce death rates for severe cases of COVID-19 by more than two-thirds.
Via an emergency use authorization, the United States Food and Drug Administration approved the filter for use in the spring of 2020, and so far it has not received full approval. It's only used in the most severe cases of COVID-19: people in intensive care units who don't respond well to other treatments like Remdesivir, the only FDA-approved treatment for COVID-19 .
A local case
Sams fits this bill. He needed oxygen on the first day of his admission, August 10. He was on the usual treatments for COVID-19, including Remdesivir, but his condition was deteriorating.
Sam was intubated and underwent treatment with the Seraph filter on August 13. In 24 hours, he had crossed a milestone.
"The sooner you apply the Seraph filter, the better," said Dr. Brian Delmonaco, Good Samaritan's medical director for Respiratory and Critical Care, who oversaw Sams' treatment. "We have had the most success if you give them this treatment within 60 hours of being in the ICU. "
Sams said he was not vaccinated and did not know precisely where he contracted the virus. As a paramedic firefighter, he often interacts with patients who are positive for the coronavirus.
In fact, he estimates that of the 25 or so daily calls he answered before he fell ill himself, five or six of them were calls related to COVID-19. Not that they don't wear protection at work – Sams said they wear even more protective gear when answering these kinds of calls.
On August 8, Sams tested positive for the coronavirus. He contracted the disease before statewide vaccination warrants for firefighters, although Sams said at the time other people in his fire station were also testing positive.
Although he was fired from work on July 31, he wasn't sure he was sick enough to have to go to the emergency room.
"As a paramedic one of the things that really bothers me is when people go to the emergency room when they are not sick enough not to be able to take care of themselves" , did he declare. "So I was really in this phase of debate as to whether I should go."
He said he checked with his primary care doctor, who told him to go to the emergency room. He was admitted to Good Samaritan Regional Medical Center on August 10, but truth be told, Sams said he doesn't remember those days at all.
Instead, it was up to his wife, Julie Sams, to speak with nurses and doctors and make decisions about Sams' care. He took Remdesivir right away, but it was getting worse, not better.
Heartbreaking experience
Having your 33-year-old partner confronted with such a serious illness is bad enough, but Julie Sams also said the whole ordeal is made even more difficult because she cannot visit her husband. With strict visiting protocols in place at the hospital, she had to stay in touch with Sams' nurses and doctors through text messages and phone calls.
She was unable to say goodbye to him properly when he was admitted to the emergency room because he was in such a deplorable condition that the medical team quickly took him for treatment.
"I hope this isn't the last time I see my husband," Julie Sams recalled thinking. "There were so many calls every day, all over the place."
She never even met Delmonaco, who recommended using the Seraph 100 filter soon after Sams was admitted. To do this, Sams would have to stay perfectly still throughout the process, so they put him on paralytic medication.
The problem is, the paralytics closed a person's diaphragm, meaning Sams had to be intubated not because COVID-19 was preventing him from breathing, but because he needed the help of machines. during treatment.
Within 24 hours of using the filter, her condition improved. He was in intensive care for several days as Delmonaco said he was delusional. He was intubated for days and needed high flow oxygen.
Sams remembered coming and not being able to remember his own name or where he lived.
Slowly, however, "it all comes back to you running," he said.
On August 24, he was finally released from the intensive care unit. But since then, the convalescence has been long.
The way back
While recovering at home, Sams first had to use an oxygen concentrator at night. It is basically a machine that provides supplemental oxygen. He said he's been off the machine for a little over a week now.
And Sams has returned to light duty at the McMinnville Fire Department for the past three weeks. That means he doesn't work more than 25 hours a week, and he can't climb more than one staircase in an hour or carry more than 10 pounds.
"But, if I'm perfectly honest with you, I live on a farm and raise cows," Sams said in a phone interview. "So I'm feeding the cows right now. "
Yet he admitted that he was not yet able to perform all the tasks required of firefighters on a daily basis.
"If you tell me to go out and fight a fire now, I would fall to my knees," he said. "I can't do my job that way yet. "
Unique hospital
Delmonaco said the Good Samaritan used the filter on 13 patients, most recently in November. Six of them survived, although Delmonaco stressed that it was the symptoms of COVID-19 that claimed the lives of the other seven, rather than the complications of the treatment.
"Seraph itself did not cause any complications that caused harm to patients," he said. "It was very safe."
This does not mean, however, that everyone infected with the coronavirus is an ideal candidate for treatment. Targeted for the most severe COVID-19 patients – usually those who have been intubated or put on a ventilator – blood filters are not recommended for people who are taking blood thinners or who have low blood platelets or have a cardiac arrhythmia.
Delmonaco said the Corvallis Intensive Care Unit was able to implement the Seraph filter as it is a small team that is "nimble" and able to adapt easily.
"Sometimes in large organizations it's hard to go fast," he said. "And when you have a pathogen emerging without treatment… it takes an agile team to do it."
The Corvallis team will even participate in the test study of the filter, being one of several medical centers across the country testing the filter on patients with septic shock – the intended initial use of the filter.
In general, Delmonaco said the filter has provided a useful new tool in tackling what has been an exhausting and deadly pandemic.
"It's exciting and it's very promising," he said. "In the two years that we have lived in this pandemic, it has been very difficult and with few positive points. "
Even still, he added, "I would be happy to never have to use this filter again."
The importance of time
For the Sams family, this new treatment made all the difference. This means the couple can reunite with their four children and four grandchildren for Christmas this year. They praised "the excellent work" of the entire Samaritan team.
Although Sams and his wife are grateful to the medical professionals who saved his life, the coronavirus is still having an impact on the holiday season: Sams' father, who was 73, died of COVID-19 a few just weeks after her son was released from the hospital.
Sams said he was fully vaccinated, although he recently had heart surgery following cardiac arrest.
Sams himself has said that while he wouldn't say the near-death experience "deepened" his relationship with his family, it certainly added new weight to the time he spent with them.
"It's different in that you realize… if it had been just a day later, (Julie) could be speaking here on her own," he said.
Troy Shinn covers health care, natural resources, and Linn County government. He can be reached at 541-812-6114 or at [email protected] He can be found on Twitter at @troydshinn.