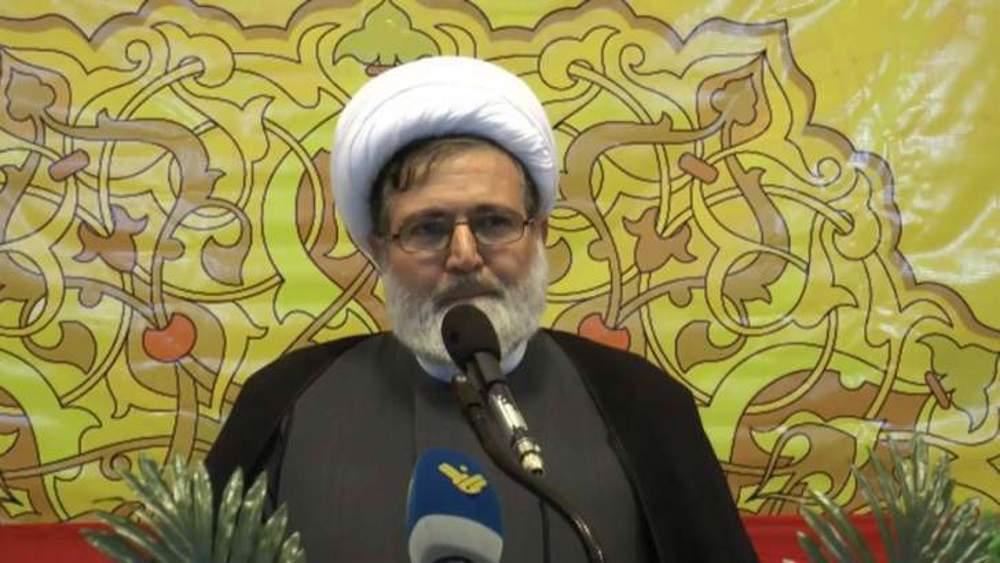 Iran is 'frontline defender' of Palestinian cause, says Hezbollah official
A senior figure in the Lebanese resistance movement Hezbollah has described Iran as the frontline defender of the Palestinian cause of liberation from Israeli occupation and aggression.
Sheikh Hassan al-Baghdadi, a member of Hezbollah's central council, made the remarks during a ceremony held in Beirut on Friday to commemorate the 33rd anniversary of the death of the founder of the Islamic Revolution, Imam Khomeini.
"Tehran extends its helping hand to any person of integrity who wants to protect his country or free it from the throes of occupation," the official said.
He also recalled the Islamic Republic's unwavering support for Lebanon during the war to liberate the south of the country from Israeli military occupation in the early 2000s.
The Israeli regime waged two wars against Lebanon in 2000 and 2006. On both occasions, the occupation regime was forced into a humiliating retreat thanks to Hezbollah's fiery resistance and heroic defense of sovereignty. and territorial integrity of the country.
"In Liban [too]the Islamic Republic has taken over by supporting us in [our efforts] to liberate the south and protect it from invasion," al-Baghdadi noted.
The Life and Legacy of Imam Khomeini
He spoke at length about the life and legacy of Imam Khomeini, hailing the late founder of the Islamic Revolution for laying the foundations for an independent revolution from East and West.
The Revolution has become "a model of reform and defense of Muslim interests", the Lebanese official said.
Al-Baghdadi was referring to the slogan launched by Imam Khomeini after the glorious triumph of the Islamic Revolution in 1979, rejecting Western and Eastern power blocs.
Imam Khomeini spearheaded the revolution that toppled the US-backed monarchy in Iran and effectively closed the long chapter of Western interference in the country.
Friday marked the 33rd anniversary of the death of the charismatic leader, who died on June 3, 1989.
"Trust in the American Recipe for Failure"
Al-Baghdadi also addressed the people of his country who he said placed their trust in the hands of the United States, referring to anti-revolutionary elements.
"To those who continue to rely on the Americans to pressure those who liberated Lebanon from [scourge of] the Israelis and [the Takfiri terrorist group of] Daesh, we say 'you should despair'…we assure you that you will not get a positive result," the official said.
"We will not allow you and your masters to destroy [even] an iota of Lebanese soil and Lebanese reputation in favor of the Israeli enemy," the Hezbollah official said.