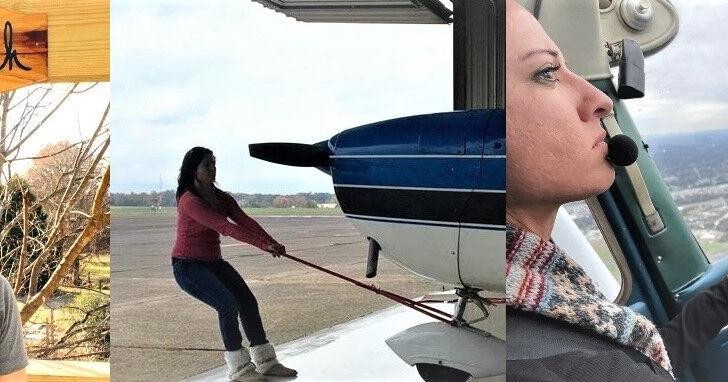 Lauren Havens finds her wings at Blue Monarch | Local news
Lauren Havens, 32, struggled with addiction for years and as a child "never felt really smart or capable of much."
She is now on her way to becoming a pilot thanks to the support she found at Blue Monarch and the help of Tullahoma resident Jim Apple.
Blue Monarch is a residential recovery program in rural Coffee County with the stated goal of "helping addictive mothers find healing and restore their lives through Christian values."
Finding support at Blue Monarch
Havens, who was born and raised in Alabama, moved with her family to Tennessee when she was 13.
"I come from a really good family," Havens said.
When she was around 17, her parents' relationship deteriorated and they divorced.
"Life has been turned upside down for me," Havens said. "Both of my parents moved out and everyone was wrapped up in their own issues."
"I moved out, and from there I got addicted," Havens said.
She first turned to Blue Monarch for help when she was 25, but she "wasn't serious about the program," Havens said.
"I came here to try and get my daughter back and get out of trouble – I had three probation officers from three different counties – so it was a way out of jail for me," Havens said.
She "messed up" and Blue Monarch had to fire her. But she took what she had learned with her, and after leaving the organization, Havens remained sober for four years.
However, she eventually relapsed and found herself again in the vicious cycle of addiction.
She's grateful that Blue Monarch Founder Susan Binkley gave her another chance, and 15 months ago Havens joined the program again.
"I didn't think they would ever let me come back here," Havens said. "But they allowed me to come back and bring my babies here."
Havens has two children – an 11-year-old girl, Cadence, and a 5-year-old boy, Jonah.
"When we first came here, Cadence was put into an adult position – she had to take care of herself and her brother. Our relationship was super rocky. She couldn't trust me. She didn't like me. I couldn't talk to her without arguing. She didn't respect me and she had no reason to.
Since moving to Blue Monarch, their relationship has improved.
"We're a lot closer now, and she's my favorite person in the world," Havens said. "I learned to listen to and respect Cadence."
Jonah also enjoys being at Blue Monarch.
"He's such a good boy – so nice," Havens said.
While Jonah loves his mother unconditionally, there is one thing he's most proud of: she can fly a plane.
The idea originated during a work ethics class Binkley taught at Blue Monarch.
"We've talked about where you want to go with your life," Havens said. "Susan Binkley asked me if I had ever thought about aviation. She told me to look for jobs for extreme people. One of the jobs listed was pilot. I thought it would be so cool.
Shortly after this conversation, Binkley invited Jim Apple, a resident of Tullahoma, an airplane pilot, to meet with Havens.
"Susan invited him to come talk to me about aviation, and he didn't expect me to be so focused," Havens said.
When Apple saw Havens' enthusiasm and desire to learn more, he wanted to help. He had an offer for Havens that he would let her use his plane – a Cessna 172 Skyhawk – and pay for other expenses, including fuel and ground school, so she could get a private pilot's certificate.
Obtaining a private pilot's license requires approximately 40 flight hours, according to the Federal Aviation Administration.
"It's a big deal," Havens said. "If you did it without someone helping you, it could cost up to $ 10,000 just to get a private license."
Becoming a private pilot is the first step towards Havens' goal of obtaining a commercial license, which will allow him to have a job in aviation.
"You have to get your private license before you can get a business license and make a career out of it," Havens said.
She has already taken several flight courses at the Tullahoma Regional Airport.
"I have a certified flight instructor, John Miller, who is a good friend of Mr. Jim Apple."
The lessons were interesting and being in the air was "a little scary" but thrilling, Havens said.
One of the most exciting times for Havens was flying over Blue Monarch, where his dream of becoming a pilot was born.
Binkley witnessed Havens transformation with joy.
"I tell everyone who takes my work ethics course to think outside the box, the sky is the limit," Binkley said. "Lauren is the first one who took me seriously."
It was very touching to see how the Blue Monarch community shared Havens' enthusiasm, Binkley said.
"They're running out to wave at her when she's flying over our campus," Binkley said. "It really shows how they lift up and celebrate each other's success."
It has been a great pleasure to see Havens' positive transformation, she said.
"Lauren will be legendary at Blue Monarch for this incredible accomplishment and will inspire women like her for many years to come."
Apple and his wife MaryLou have been interested in Blue Monarch for several years.
When Binkley called him and told him about Havens' interest, he wanted to know more.
"I went down to Blue Monarch to meet them both, not knowing what phase of aviation Lauren was interested in," he said. "When we first met, I learned that she wanted to become a career pilot. I also quickly saw Lauren's determination and drive.
He was impressed but had yet to be convinced that she was the "real deal," Apple said. So he invited Havens and Binkley to the airport and took them on a plane ride.
During this flight, after they were "upgraded", he offered the controls to Havens, and she flew the plane for 10 minutes "as calmly and smoothly as I had ever seen a no- driver do it, "Apple said.
"I was convinced then that she was the real deal," he said.
Later that day he called his friend, Major General John Miller, who is a certified flight instructor.
"I spoke to John about Lauren, how impressed I was with her and asked him to meet her," Apple said.
He was so impressed that he agreed to donate his time to give free flying lessons in Havens.
"The rest is history," Apple said. "She is now on the verge of becoming a pilot."
Apple said it is delighted to have the opportunity to help Havens.
"She's dedicated, determined and deserves it," Apple said. "I consider it to be one of the best investments I have ever made. I'm only 25 percent of that equation.
Gen. Miller is at least another 25 percent providing instruction. But the real 'investor' here is Lauren.
"She's come this far in the past two years. Now she is doing it and there is no doubt in my mind that she will be successful. We are blessed and thrilled to be a part of it.
Through this experience, Havens learned that she is intelligent and competent.
"When I was younger, I never felt really smart in school," Havens said. "I never felt capable of much. Susan has helped me understand that I am smart and that I can do things. Now I know I can do it and I will.