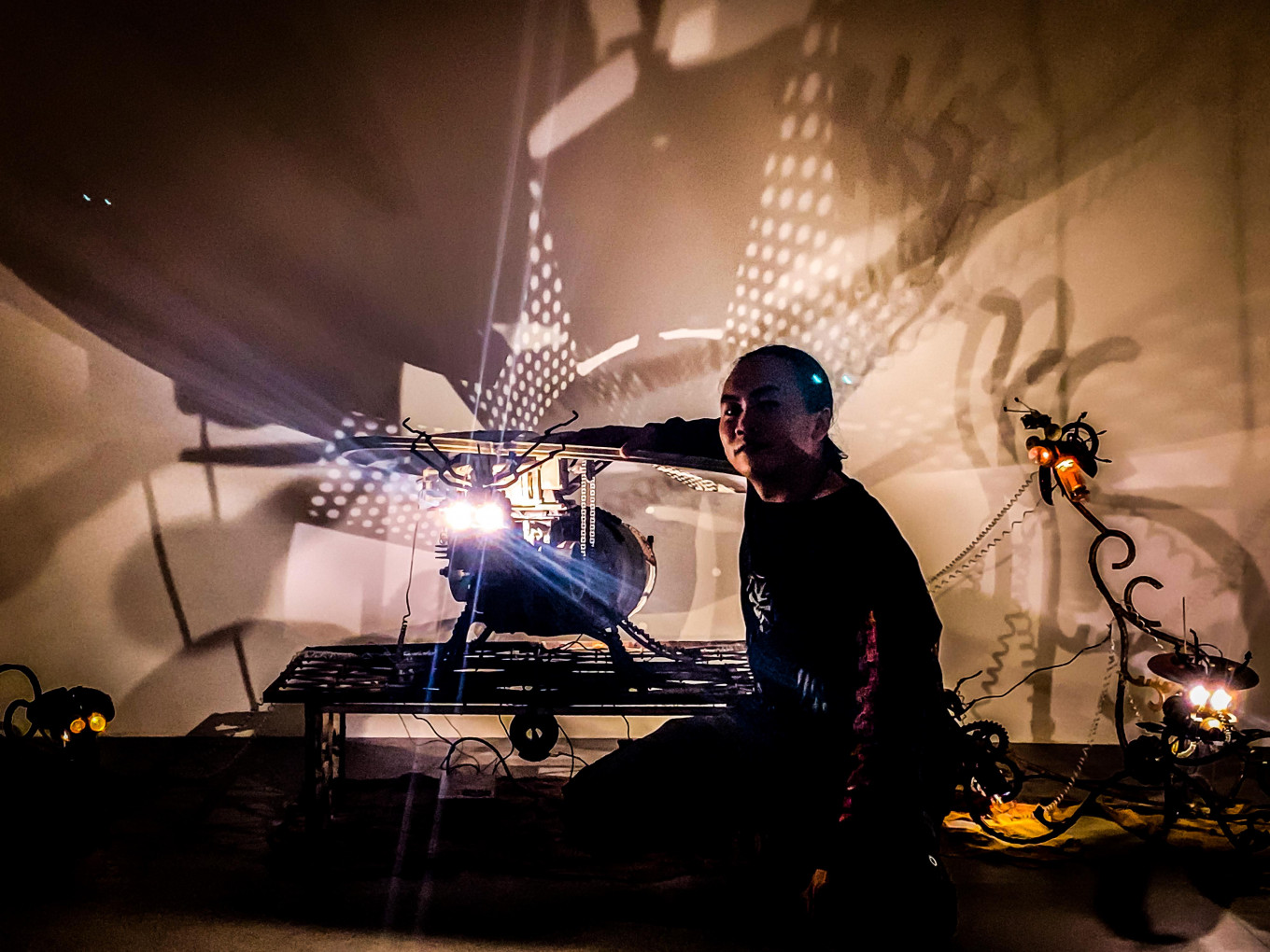 Looking Away: Artist Uses Robotic Insects As Souvenirs For Future Generations – Art & Culture
Dressed only in a T-shirt and shorts, the installation artist known as Toyol was busy playing with a robot he had created called "Fireflies", when Jakarta Post met him at a new gallery called Nol Kecil in Surabaya on June 15th.
"Having a little problem here. The wheels and gears are a bit stuck," said Toyol, real name Abdul Khafidz Fadli, 25. He was preparing to inaugurate his first solo exhibition entitled Quantum Fayyakun. "Not only that, I'm a little nervous too, so I check them all again and make sure everything is okay."
At the show, Toyol plans to exhibit his cyborg fireflies. He gathered a mix of second-hand goods, such as motorcycles, satellite dishes, fences, junk, and obsolete knickknacks he had found in flea markets, and put them together by what some artists call a process of "cannibalization". Toyol's work as an artist always screams "experimental," a term he accepts. Before focusing on the art of installation, Toyol first began his experiments with sounds. He had joined the "noise music" collective, Melawan Kebisingan Kota (roughly translated as "against city noise"), which exhibited his sound creations at the Jakarta Biennale in 2015.
Replenish the fireflies
The sound of clashing metal echoed through the exhibition hall, a rhythmic and synchronized sound. In the darkness, a faint glow of what looked like an eye appeared from the mysterious creations that occupied every corner of the room. The scattered brown floors were illuminated by the yellow light, revealing the mysterious side of the showroom. And with that, various lights and sounds emerged from Toyol's fireflies.
"This is my vision of what fireflies would be like in the future. I have often said to myself, because of these huge [infrastructure] with developments and humans being too loud, the fireflies would be gone in no time, "Toyol explained.
Light up the dark: Toyol remodeled an old motorcycle wreck for the body and used parabolic leftovers to make firefly wings. (JP / Reno Surya)
The inspiration was personal.
"I felt it first hand. In the past, it was easy to find fireflies in the neighborhood where I lived, the outskirts of Surabaya, which was not that loud. But now I rarely see them. I have to retire to a rural location to see them. I think it's a consequence of the destructive nature of humans today, and creatures like fireflies are out of space now, "he said.
He said that one day, when the fireflies were finally extinguished, the insect would appear to be a "myth" to humans. Toyol imagined that later there would be scientists or people who would try to disprove the myth and revive the fireflies. He hopes that the objects he exhibits today can serve as data references for people in the future. After the exhibition ended, he buried more than 20 fireflies and scattered them in various places.
Toyol imagined that in the future the world would be made of iron. Therefore, he deliberately chose metal as the main material for his work. Because it has gone through a long process of evolution, the appearance of fireflies in the future will seem unusual.
"People today would see it as an anomaly. But it's the future. It's the face of the future," Toyol said.
For Toyol, fireflies are extraordinary animals. Indeed, the animal undergoes three metamorphic phases. And the three phases represent the elements of life: water, earth and air. First of all, before appearing as a beautiful creature, the firefly is a larva floating in water. After that he becomes a caterpillar. After passing through the stage of being an "ugly" creature, he will become a beautiful creature shining in the dark of night at the end of his life.
"It's almost like a butterfly. But even though the butterfly is an animal with beautiful wings, it doesn't carry light. Fireflies will be the only source of light. A ray of light in such a dark world."
In order to prepare for his mission to hand over the fireflies to future generations, Toyol plans to put his robot in an iron capsule after the exhibition. Inside the capsule there is also a document on how to activate labor. Hopefully it will be a little token of the past that he can leave to his children and grandchildren.
To discover: Once the exhibition is over, all these mutant fireflies will one day be buried in an iron capsule. (JP / Reno Surya)
"In the auction, anyone can buy the work. But the buyer does not have the right to own it completely. They must be ready when the time comes. I will ask for the work to be returned to their owner. origin. I plan to bury it in the seabed, underground and in other hidden places. "
Debunking the myths
Toyol works as a welder in his private workshops, located in Nongkojajar, Malang and all over Surabaya. In his creative process, Toyol generally looks for Javanese serat (manuscripts) and study the holy Quran. His work, titled Quantum Fayyakun, is totally different from his previous work, which often depicts mysticism and the occult. In this exhibit, mysticism is subtly shown, and it has recently been busy exploring the "future world".
For example, during the East Java Beinalle 2017 event, Toyol created an installation featuring a collection of Javanese ghosts. He scrambled a pentagram in the center of what was a charity box. Among the pentagrams, he installed imaginary demons named DJ Jelangkung, Anjing Jahat (Evil Dog), Pocong Krueget and Adik Toyol (Little Toyol). In a dark square room, a prayer is slowly sung. As the audience approaches, one by one, the demons created by Toyol move, scream, and often frighten visitors.
"At the moment I'm not strong enough to do works like this again. Because my previous job required a lot of effort. I had to perform rituals and make offerings. Now I want to do something that deals with first of the future. Someday I want to do something dark again, "he said.
Ayos Purwoaji, an independent art curator who has observed Toyol's works for several years, said that even in his last exhibition, Toyol did not get over his "Junky". [rombeng] aesthetic.
"Even though he tries to tidy up his work and make it softer, the 'junky' aesthetic is still very thick. If you observe him, Melawan Kebisingan Kota, WAFT Lab, his first exhibition and his noise projects, none of this can be separated from what we can call 'junkiness', "Ayos told the To post. "Toyol's strong point is turning waste into art, shrouded in pseudo-science, mysticism and Islamic-Javanese narrative, he could even transform the work ethic of factory workers in Sepanjang, his hometown, into a work of art. "