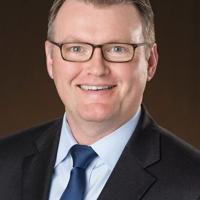 McCauley leaves Networks Northwest | Company
TRAVERSE CITY — Since joining what would become Networks Northwest in 2004, Matt McCauley has had an old-fashioned solar-powered calculator on his desk.
McCauley said he used the calculator daily in his position at Networks Northwest, the last four as CEO. McCauley's trusty calculator helped calculate numbers critical to the business and economic development of 10 northern Michigan counties.
A month from now, the calculations will follow McCauley in a similar role with a new organization. McCauley will become senior vice president of regional prosperity at the Michigan Economic Development Corporation on Aug. 22.
McCauley will work from a hybrid office situation in Traverse City and Lansing in his new position with the MEDC. Much of his focus in his new position will remain the same, just with a statewide focus.
McCauley said he would simply wear "a different hat" in his new position.
"I don't have to move," he said. "I feel good about it."
McCauley said he has the opportunity to work at the state level to guide "proactive engagement with businesses and communities to create an environment conducive to business growth and expansion, improving the community and place and overall economic and community development," according to the MEDC. job description, is similar to his work at Networks Northwest. He said the connection that "business needs the community as much as the community needs the business" is part of his current position as well as his new one.
"A very significant opportunity has arisen with the Michigan Economic Development Corporation," he said. "They are undergoing a reorganization and part of that is what had been major divisions within the MEDC are now under one division. I will be the head of this division for the entire state.
McCauley joined what was then the Northwest Michigan Council of Governments in 2004. He served as chief operating officer and director of regional planning at Networks Northwest before becoming its CEO in 2018.
"Matt has been a positive leader at Networks Northwest for many years," Networks Northwest Board Chair and Munson Healthcare Chief Human Resources Officer Sue Peters said in a statement. "His new role with MEDC will further develop our regional community and the state as a whole. We wish him well and appreciate his efforts to ensure a smooth transition for the agency and the entire region.
"I'm really proud of the work of this agency," McCauley said of his tenure. "This has been a model for MEDC to look at reorganization…available for statewide economic development. I'm very proud of everything I've done at the agency and everything what we did at the agency.
McCauley said Networks Northwest's board will meet and a process to find his successor will begin in the coming weeks.
With strong staff and partner organizations like Traverse Connect, Northwestern Michigan College, and Northwest Michigan Works, the transition should be smooth. McCauley will continue in his role as CEO until August to help the board replace him.
"I'm very confident in a high-quality successor," McCauley said. "It's a quality region, a quality agency with fantastic staff. It will attract a high quality person. I have no doubt about that.
MEDC CEO Quentin L. Messer, Jr. is also confident about what McCauley will bring to his new role with the state.
"Matt is passionate about the unique needs and strengths of each region of the state, appreciating the rich diversity that defines Michigan while guiding a comprehensive planning and partnership approach to help Michigan build a championship economy," Messer said in an email announcing the hiring of McCauley along with Amy Rencher as senior vice president of small business services and the promotion of Natalie Chmiko to senior vice president of small business solutions.
"In his current role as CEO of Networks Northwest, Matt has a proven track record of leading a team to take a strengths-based approach to driving growth in Northwest Michigan."
Networks Northwest represents the counties of Antrim, Benzie, Charlevoix, Emmet, Grand Traverse, Kalkaska, Leelanau, Manistee, Missaukee and Wexford.