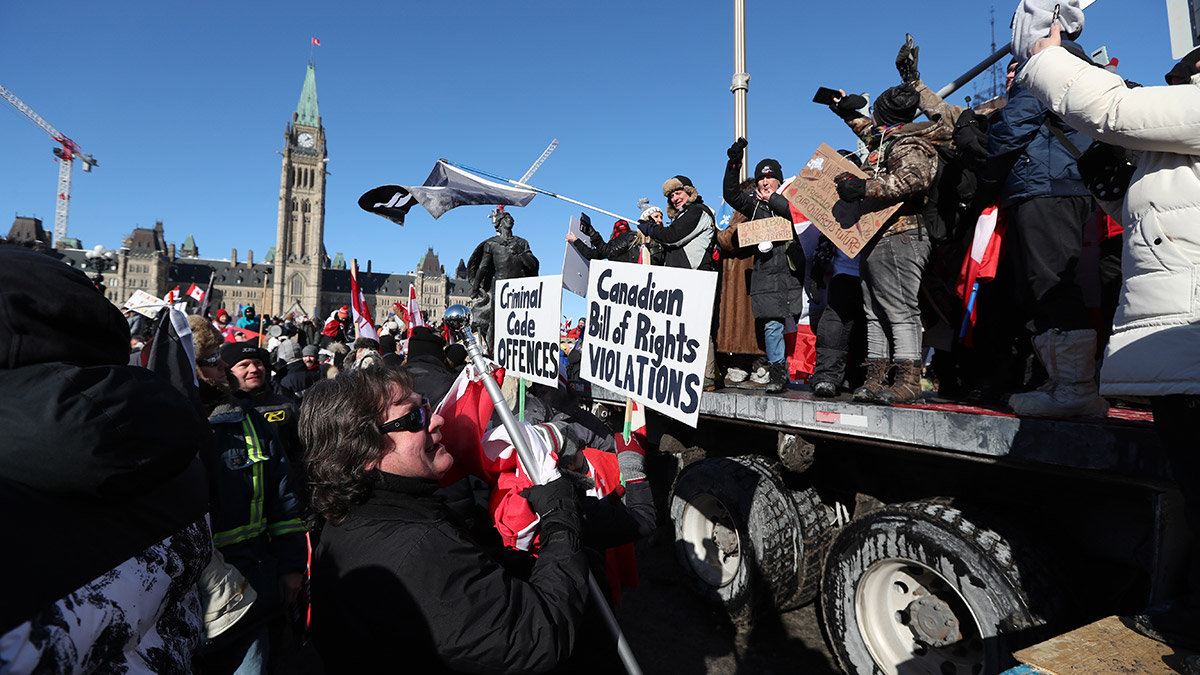 'Police sat idly by': Ottawa residents tell Ottawa People's Commission impact of convoy occupation
The occupation of Ottawa by the "freedom convoy" may have taken place eight months ago, but locals are clear that time has not repaired the harm done.
The Ottawa People's Commission (OPC) on the convoy occupation recently held its first hearings in the downtown and lower town, where residents recounted sleepless nights, harassment by convoy members and the inaction by Ottawa police during occupation of downtown by truckers and others protesting COVID restrictions. The commission will hold three more online hearings – Wednesday, October 12 and 20.
Created to allow residents to share what they experienced during the occupation, the citizen-led coalition aims to publish a final report by early 2023.
The report will be informed by OPC hearings from September to December and will include recommendations on healing communities and rebuilding trust. It will be sent to the City of Ottawa, provincial authorities, federal government and will be made available to the public.
Other investigations are also underway, including the city auditor general's investigation into the impact of the convoy, and the federal government's Public Order Emergency Commission, the federal investigation into the use of emergency measures law. A parliamentary committee also held hearings.
However, OPC organizers say they are taking a unique approach to their investigation.
"I think it's very important to point out that this commission is different; It's a popular commission, so it's more of a popular initiative. We have no government funding," said Monia Mazigh, one of the four commissioners heading the OPC.
"The other commissions, they have their own objectives. … I always see it more by complementarity; we complement each other. We fill what is not already filled by the commission or any other commission," she said.
The OPC focuses on hearing directly from those affected by the convoy, which the commission says is not at the forefront of other investigations.
Five people spoke at the first hearing on September 21. The first witness, an unidentified 72-year-old downtown woman, described her inability to sleep for more than a week and even found human feces near her home.
"Closing the streets, terrorizing citizens in their homes, giving businesses no choice but to close their doors – some of which will never return to business – and mocking our justice system while demanding that our Prime Minister and his government given to them is not a protest, let alone a peaceful protest," she said in her testimony.
A downtown resident known only as Matt shared his counter-protest experience.
"We saw photos circulating of people waving swastika flags, of cultural appropriation of Indigenous practices, of Trudeau hanging by a rope. We saw banners… of white nationalist hate groups. We have witnessed widespread harassment of mask wearers in our community and several instances of public intoxication, urination and defecation," Matt said.
"The police sat on their hands and did nothing," he said.
Feeling that the city and the Ottawa police were not acting, Matt said he took matters into his own hands by demonstrating on Parliament Hill. He was holding a sign that said, "We won't be taken hostage in our own town."
Matt says the police told him they couldn't guarantee his safety if he stayed on the Hill.
The commission will also hear from people who felt the occupation of the convoy had a positive impact, said Alex Neve, another of the four commissioners.
"The People's Commission expects to hear, both in person and in writing, from people who may have supported and even actively participated in protests and other activities associated with the occupation of the convoy," it said. he said in an email. "We welcome these views. However, we still focus on the community impact of the convoy. This means that we only wish to hear from supporters of the convoy who actually live or work in the neighborhoods affected by the occupation and are in this sense members of the community.
He added: "Our goal is impact, not the legitimacy or otherwise of the convoy's message or ideological views."
Mazigh said she doesn't know if the Ottawa Police Service (OPS) or Mayor Jim Watson will participate in the people's commission. The police department did not respond to inquiries from Capital Current prior to publication.
Watson's press secretary Patrick Champagne said the mayor "is not involved with the People's Commission and will not comment publicly while various bodies continue their independent investigations" into the truck convoy and its impact.
Capital Current also contacted the Ottawa Business Improvement Areas Coalition (BIA) to ask if local businesses would participate in the OPC survey, but did not receive a timely response.
But the OPC told Capital Current that it plans to hold a session in November aimed at hearing from local businesses.
The first round of hearings was open to the public, with community members coming out to show their support and learn about the OPC.
Katie Zwiers, an 18-year-old student at the University of Ottawa, attended a hearing on September 22. This year.
"I hope all the stories detailing police and government inaction (get) aired so that real change can happen within the system. I hope people feel empowered and heard like me" , she said.
The commission will hold further hearings online: October 5 and 12 from 7 to 9:15 p.m. and October 20 from 2 to 4:15 p.m. You can visit the OPC website for more information on upcoming events, to make a donation, or to have your story heard.