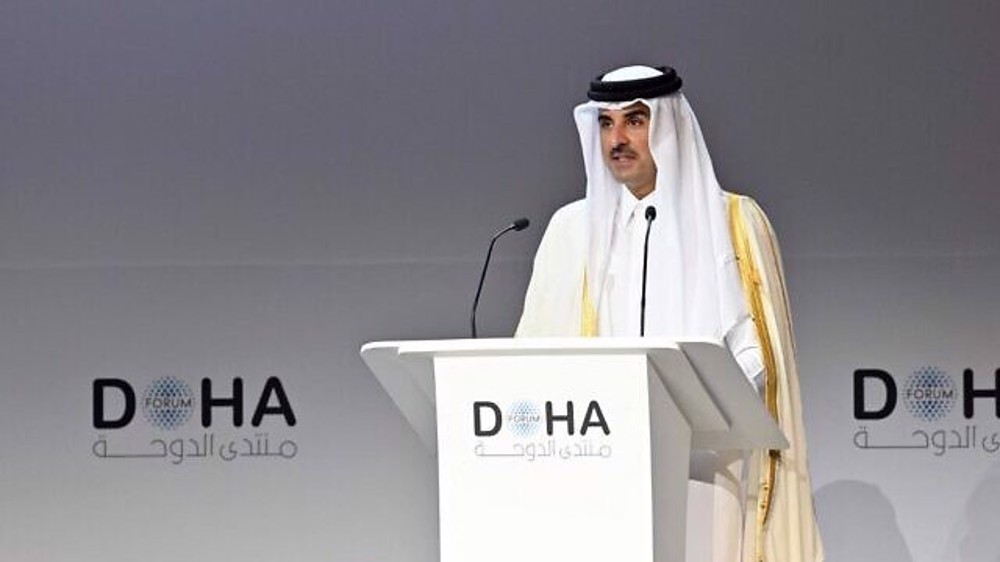 Qatari emir condemns international community for neglecting Israeli occupation for more than seven decades
Qatar's Emir, Sheikh Tamim bin Hamad Al Thani, has strongly denounced the Israeli regime's occupation of Palestinian territories, saying much of the international community had neglected the issue for decades.
"Millions of Palestinians have suffered under Israeli occupation and international neglect for more than seven decades," Sheikh Tamim said as he opened the 20th edition of the Doha Forum international conference in the Qatari capital on Saturday.
He stressed that "the international community has failed to bring justice" to the Palestinians and other peoples in the region.
The emir also stressed that criticism of the policies of the Tel Aviv regime does not constitute anti-Semitism.
"The accusation of anti-Semitism is now being misused against anyone who criticizes Israel's policies," he said.
Sheikh Tamim added that such an approach "impinges on the fight against racism and real anti-Semitism".
Later in the day, Palestinian Prime Minister Mohammad Shtayyeh met the Qatari monarch on the sidelines of the Doha Form and hailed his statements in support of Palestinian rights.
"Israel is systematically destroying the possibility of establishing a Palestinian state by intensifying settlement building activities, seizing land and demolishing homes," Shtayyeh said.
He added that efforts, led by Algeria, are underway "to restore Palestinian unity in order to strengthen the Palestinian front in the face of all challenges".
Shtayyeh then briefed the Emir of Qatar on the political and economic challenges facing the Palestinian nation.
He said Israel's illegal deductions from the tax revenue it collects on behalf of the Palestinians and declining international aid have rendered the Palestinian Authority unable to meet its obligations.
On June 4 last year, Qatari Foreign Minister Sheikh Mohammed bin Abdulrahman Al Thani said the kingdom would not normalize diplomatic relations with Israel unless the regime ended its occupation of the territories. Palestinians and that the decades-long Israeli-Palestinian conflict be resolved.
The main reason why Qatar has no relations with Israel "is the occupation of Palestinian territories", Al Thani told the CNBC news channel at the time.
"The reason is still there, still valid, and there is not yet…a step or hope towards peace. We have seen no light at the end of the tunnel," added the Minister of Foreign Affairs.
The senior Qatari diplomat stressed that normalizing ties with the Tel Aviv regime will not resolve long-standing issues between Israel and the Palestinians.