Shane Wright and Joshua Roy could be a deadly duo for the Canadiens
With all eyes on Shane Wright as the first overall pick in the upcoming draft, the Montreal Canadiens can also start dreaming about the future.
Kaiden Guhle is absolutely dominant in the WHL and has what it takes to be a future top 2 NHL defenseman. Riley Kidney exploded for 100 points this season in the QMJHL and continues to lead his team into the playoffs. Not to be overlooked, Jan Mysak is also becoming a versatile player.
Then, of course, there's Joshua Roy. The Canadiens' 5th round pick in the 2021 draft has completely changed his training routine, nutrition as well as his outlook on life as he has matured significantly over the past year which has resulted in an incredible success on the ice.
In 66 games with the Sherbrooke Phoenix of the QMJHL, Roy won the league scoring title with an incredible display of offensive prowess with 51 goals, 68 assists totaling 119 points.
The Joshua Roy Show didn't end when it came time for the playoffs. The Phoenix disposed of the Baie-Comeau Drakkar in 4 games in the best of 5 series of the first round. During those four games, Roy scored 4 goals and 8 assists for 12 points.
Joshua Roy is a prototypical sniper. He'll cleanly beat you in a dozen different ways and he loves to score. What makes him even more dangerous is that he develops a solid physical game and has also proven to be a good puck protector.
Having Shane Wright as a center can potentially suit both players perfectly. Wright would be able to protect Roy's defensive weaknesses and would also be a great playmate if the two click. Wright tends to run play first and even tends to slow play as he controls the momentum when he has the puck. His ability to drive the net and find openings for his wingers could raise the roof of the Bell Center at an alarming rate.
An easy comparison might be Nick Suzuki and Cole Caufield who play the game very similarly to Wright and Roy respectively.
Joshua Roy would enter the Canadiens system at the perfect time as the team attempts to put in place a proper player development program. If Roy and Wright, who are also very humble and mature young men, arrive with a similar work ethic and drive, there's no reason they shouldn't achieve some level of success in the NHL. .
We dream early, but there are too many very good potential prospects in the Canadiens' pipeline not to be excited.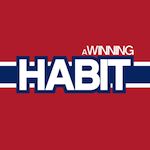 Want your voice to be heard? Join the A Winning Habit team!
Write for us!