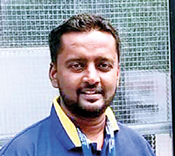 Tharindu Wants Professional League To Help Create 'Players' | Print edition
By Ishan Samaraweera
BASKETBALL
Views) :
Tharindu Fernando, a multi-talented person and head basketball coach at Gateway International School, Colombo has been appointed by the Sri Lanka Basketball Federation (SLBF) as the coach of the Under 23 team of the Sri Lanka for the next FIBA ​​Under-23 World Cup, to be held in Mongolia.
An athlete in the making, Fernando has been engaged in basketball since he was a student of the De La Salle Brothers, where he embarked on one of the most popular sports in the world, but locally flourishing. An avid player who came under the wings of his first coach Bro. Janaka Fonseka, Fernando aspired to take it further when he was still young and started coaching basketball at the age of 16, supported by his mentor.
He rose through the ranks in coaching, learning all aspects and familiarizing himself with the latest basketball skills to soon become a FIBA ​​Accredited Coach. So he became coach of Sri Lanka Under-23, his first arduous task being to prepare the squad for the FIBA ​​Under-23 World Cup, to be held in Ulaanbaatar, Mongolia, from October 11 to 15.
"You don't have to be the biggest, fastest and strongest player. You can't control your height, nor can you control your athleticism compared to the competition. But you can control your efforts, your attitude, and your work ethic. This is the key to success in any field of sport, "said Fernando.
With over 25 years of coaching experience, coupled with passion and dedication, Fernando has scripted an unblemished career, winning numerous championships at various levels, from school to club. So far, he has coached in all age groups including Sri Lanka women's team in 2009, Sri Lanka men's under-19 teams in 2012 and 2016, Sri Lanka men's team. Lanka 3 × 3 for the World Cup in France 2017 and Sri Lanka U-23 Team at the Nation League in Japan in 2018.
He is known for his use of technology in developing his athletes to become champion players, and intends to adhere to the same methods in the minds of the youngsters who will represent Sri Lanka later in October at the time. of the world event.
"We have to have a professional league in Sri Lanka. Unfortunately, we don't have one here. Our players need to be exposed to foreign players. We need a good tournament structure. After the under 19 level, our players do not have a gateway to be selected for the national team. If we have a regular Under-23 team, it will be beneficial to choose players for the national team. It will be a very good basis on which to build to last and help build a strong national team in the future, "he stressed.
To compete at the international level, Fernando has a know-how from which Sri Lanka could greatly benefit. One area Sri Lanka needs to seriously consider to promote the status of basketball are sports science technology devices and data analysts to help coaching staff.
He is expected to create a professional atmosphere in basketball and aim to create a path where coaches from the United States could one day take over here. The tech aspect he used to turn things around for Gateway should also come in handy for Sri Lankan basketball as he takes on this new challenge.