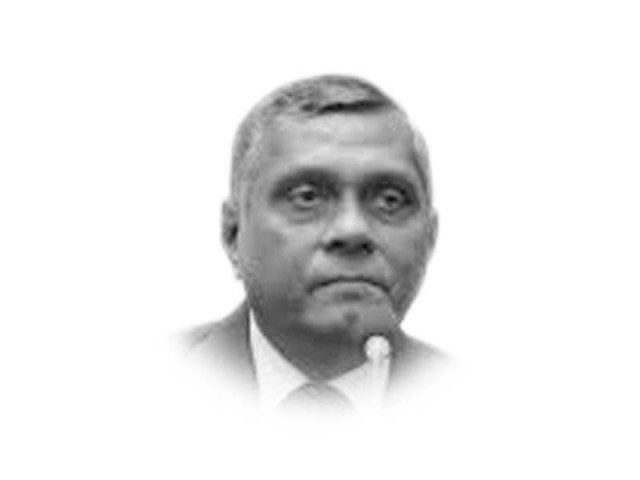 There can be no economic miracle in Pakistan!
When Ishaq Dar was sworn in as Federal Minister of Finance and Revenue more than a week ago, there was an instantaneous depreciation in the rate of the dollar against the rupee; rise in the stock market index; and lower prices of petroleum products. Does this mean that a person, who has twice served as federal finance minister and escaped from Pakistan five years ago on corruption charges, can cause an economic miracle? Is there any rational basis for Dar's claim to fix the economy by stabilizing the exchange rate? lower the interest rate and reduce inflation?
Additionally, meager foreign exchange reserves of $8 billion, just enough to pay for just three weeks of imports, are another source of concern. It will be nothing short of a miracle if Dar is able to have a paradigm shift in the economy due to harsh realities that will not allow the country to escape the inevitable. In the current fiscal year, Pakistan is to arrange external financing of $40 billion. This is on top of the $20 billion in losses the recent floods have inflicted. The artificial appreciation of the rupee against major currencies will not work due to the high demand for dollars for imports and other purposes. In today's Pakistan, miracles to save the economy will certainly not happen because of the realities on the ground which are very unfavourable.
Neither the IMF nor the World Bank nor friendly countries will come to the rescue of Pakistan as the country is constantly asking donors to forego loans and provide more financial resources in order to avoid a financial default. Even during the recent devastating floods, the country did not receive substantial financial aid unlike the case of the 2005 earthquake. Lack of trust and widespread corruption tend to discourage donors from providing cash aid. The images of floods and the forceful appeal of the UN Secretary General to help Pakistan in this moment of crisis have not yielded positive results. Under these circumstances, Dar's recovery of the economy is a major test for the PML-N-led coalition government.
Things were also tough when Dar took over as finance minister in 2013 due to the PTI-PAT sit-in in Islamabad in 2014, but he managed to weather that crisis. This time the situation is different as Pakistan's economy is in dire straits and a country of 222 million people with a conglomeration of internal and external threats as well as the devastation caused by floods cannot sail smoothly to Dar despite her supposed magical skills. . In 2013, the PML-N had a two-thirds mandate; but in 2022, Prime Minister Shehbaz Sharif leads a coalition of a dozen parties – and that too with a very slim majority.
The existential threat to the coalition government in the form of Imran Khan is real, and it will be difficult for the PML-N "financial wizard" to lead a paradigm shift in the economy. The threat of famine following massive floods weighs heavily and the government has meager resources to import foodstuffs in order to prevent a crisis situation. While all the economic indicators predict a desperate situation, what magic wand will Dar wield to solve the problems that tend to aggravate the political and economic situation of the country!
Three major realities must be analyzed that will continue to undermine Dar's "mystical" skills for economic recovery. First, the reality of corruption, nepotism, poor governance, lack of rule of law and lack of accountability must be taken seriously. Miracles never happen when the country is unable to deal with issues that seriously upset the work ethic. Nations are not built by mere words or rhetoric, but must eradicate the culture of corruption and nepotism. How can a country be pulled from the brink of economic disaster when it lacks motivation, integrity and planning from those who matter?
Dar can't let miracles happen because her hands aren't clean, along with many others who happen to be her coalition partners and favorites in her own party. Constant begging from donors and friendly countries will not help because Pakistan's elite culture is totally unaware of the realities on the ground relating to the severe political and economic crisis. An artificial fall in prices and an appreciation of the rupee against the dollar would be counterproductive and would lead to a new crisis.
Second, no economic miracle will happen unless our leadership possesses eight qualities in theory and practice: hard work, integrity, brilliance, vision, commitment, dedication, planning, and wisdom. Looking at other success stories, especially in the developing world, one can learn from former Singaporean Prime Minister Lee Kuan Yu, former Malaysian Prime Minister Mahathir Mohammad, former Chinese Communist Party Chairman Mao Zedong and Nelson Mandela, the founding president of the post-apartheid South. Africa. Other successful models can be found in the United Arab Emirates, Qatar, Muscat and Oman. Ever since the establishment of Pakistan, the leadership vacuum and lack of qualities needed to successfully lead a country has been a bitter reality.
Whether under civilian or military control, Pakistan has failed to become a model of good governance, rule of law and professional ethics. Laziness, incompetence, dishonesty, fraud and cheating became acceptable norms which lowered Pakistan's score in the Human Development Index, Corruption Perceptions Index and Human Security Index . The deterioration of people's quality of life in terms of lack of clean and safe drinking water for all, quality and compulsory education, housing, public transport and hygienic food are major challenges. When the people in charge are hated because of their corruption and nepotism, how can Pakistan put its own house in order? Third, miracles will only happen if there is a culture of merit in Pakistan.
When decisions are made on the basis of vested interests and likes and dislikes, the country can never emerge as a prosperous state. The erosion of merit has a long history in Pakistan which has eroded the confidence of capable and qualified people in the system charged with running the country and has led to a huge brain drain. When public sector institutions like Steel Mills, PIA, Pakistan Post, Railways, WAPDA, PTV and Pakistan Broadcasting Corporation suffer huge losses, it has to do with incompetent and dishonest people running them.